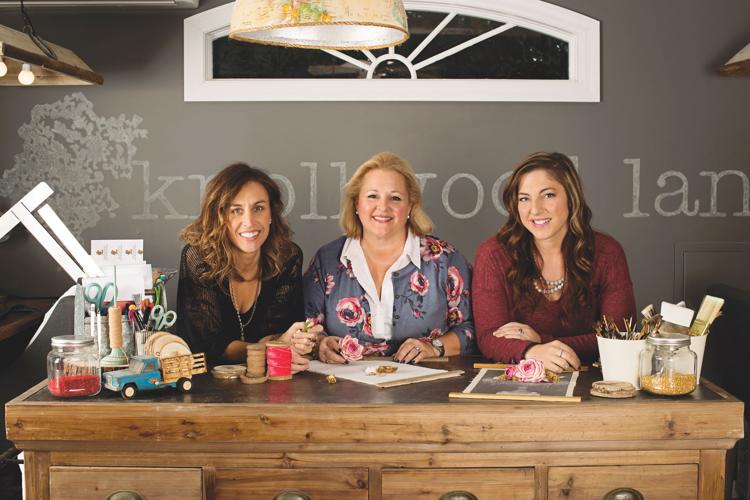 Seven years ago, Susan Medart's head was swimming with so many ideas she was having sleepless nights. "I kept waking up in the middle of night, and I would go downstairs and start making things on my dining room table," recalls the St. Louis native, who always had a talent for designing and creating handmade crafts.
From those late-night craft sessions emerged Medart's unique new venture – Knollwood Lane, offering wholesale and retail lines of vintage-inspired home décor and gift items. The business was named after Medart's family property in northern Wisconsin – an old lodge her grandfather purchased in the '40s that always has served as a place of inspiration for her.
Soon after launching the company, the mother of three discovered through friends that two other local mothers, Crystal Lindsey and Julie Frizzell, also had a knack for handcrafting unique antique creations. The trio immediately hit it off, and the business expanded into a chic, rustic studio connected to Medart's home. "There are 10 years between each of us, so we cover the gamut on generations we appeal to," Medart says.
All of Knollwood Lane's home décor and gift items are handcrafted by the artisans, who are drawn to vintage looks from the '50s, '60s and '70s, and take inspiration from their faith, family and friendship – along with a healthy helping of humor. "All of us being moms really bonds us, so we feel very connected," Medart says. "We'll get together and brainstorm ideas, or sometimes a design will develop through texting each other."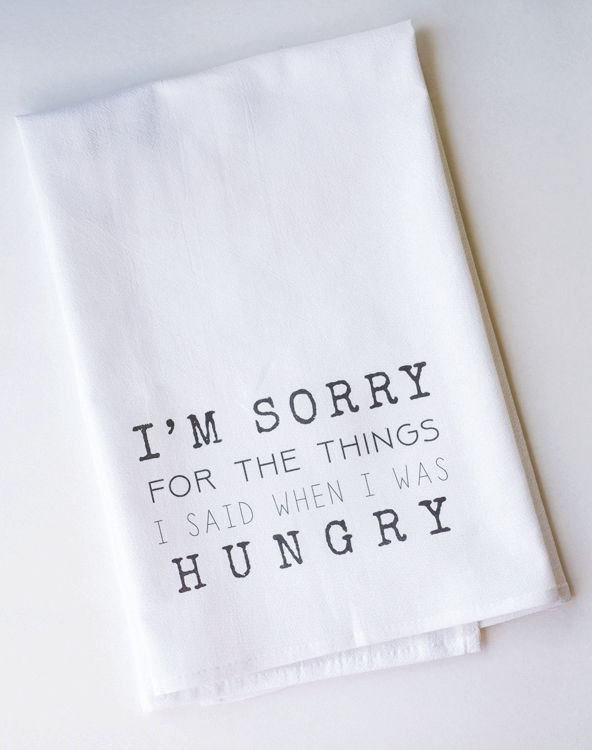 The company's wide selection of home décor includes its best-selling flour-sack kitchen towels and canvas pillows, as well as wood coasters and canvas wall hangings in reclaimed wood frames. "We like to use cotton, wood, organic cork and canvas," Medart says. "We are big on made in America and handmade, so the majority of our materials are from the U.S. – our canvas pillows are from Arkansas, and our reclaimed wood is from a Missouri barn from the 1800s."
The trio collaborates to create vintage-inspired designs for each item. And Knollwood Lane's signature sayings, from clever to funny to sassy, are added to many of the pieces. For example, one flour-sack kitchen towel features a llama and the phrase "This llama don't need your drama," while another displays a cupcake and the saying "I love you like a fat kid loves cake." And its canvas pillows feature sayings such as "Hot Southern Mess" and "Mind your own biscuits and life will be gravy." The comical items have become a customer favorite, Medart says, adding, "We love getting reactions out of people."
Additional handmade home décor includes paint-by-numbers pillows depicting natural landscape scenes; shields with mounted faux antlers, made of resin that has been molded from actual deer antlers from Wisconsin; and popular wooden Advent calendar shadow boxes, hand-decorated by the team. The business also offers baby items, including onesies, burp cloths and play tents, and vintage-themed stationery, with more than 100 designs for virtually every special occasion.
Knollwood Lane items are available online at knollwoodlane.com and etsy.com, as well as in more than 50 stores throughout the nation, mainly in the Midwest and Texas. Locally, customers can find the company's creations at The White Rabbit, an antique boutique in Brentwood, and Red Door Furniture Co., a handcrafted home décor store in St. Charles.
Sales have quadrupled since Knollwood Lane's inception, due in large part to its annual appearance each January at the Dallas Total Home & Gift Market, where stores from around the country can place wholesale orders. Customer response has been exciting, with all-positive reviews posted on etsy.com thus far, Medart says. "We have shipped from our Etsy shop to places all over the world, from Norway to Saudi Arabia," she notes. "People love our quality."
As for the future, the Knollwood Lane studio always is buzzing with activity as the trio creates new designs. "We're working on the 2017 product line and are excited about debuting it at Vintage Market Days from Oct. 7 to 9 [in the Chesterfield Mall parking lot]," Medart says, adding that a new line of watercolor artwork is in the works. "And we always try out our new items first at The White Rabbit, so locally you'll find new things there all the time."
Knollwood Lane, 906 W. Essex Ave., Kirkwood, knollwoodlane.com