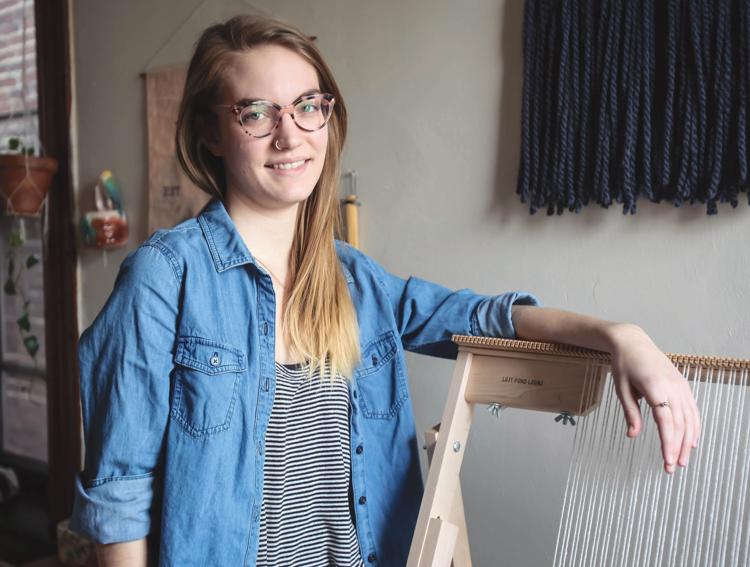 Wabi sabi: the Japanese aesthetic and philosophy of embracing imperfect handmade creations and appreciating peace in solitude. It was an idea that resonated with St. Louis native Hillary Bird, leading her to dub her local weaving business Wabi Sabi Textile Company.
A self-described people person, Bird discovered a love of weaving when she first picked up a loom in 2013 after working for three years at a local vintage clothing shop as a seamstress and historical costumer (although she's been working with vintage clothing and textiles for about seven years total). As she dived into her new art, she had a realization. "Weaving can be very isolating, spending hours and hours alone with just your loom and your thoughts," Bird says. "My whole life, I've [gotten my] energy from being around others, but when I began weaving, I was spending a lot more time by myself, something that had always made me somewhat uncomfortable. At some point, a very foreign thought entered my mind: 'You are enough. This is enough.' It felt like the breakthrough I didn't know I was looking for."
With that revelation, Bird knew weaving was her calling. The ancient practice would allow her to combine her aspirations of creating art and making textiles, including rugs and clothing. "I realized making rugs and making fabric were the same thing – weaving," Bird says. "I could create these chunky, fuzzy woven things by basically 'painting' with yarn, or I could create yardage of fabric – that I could even print on – to make my own clothes."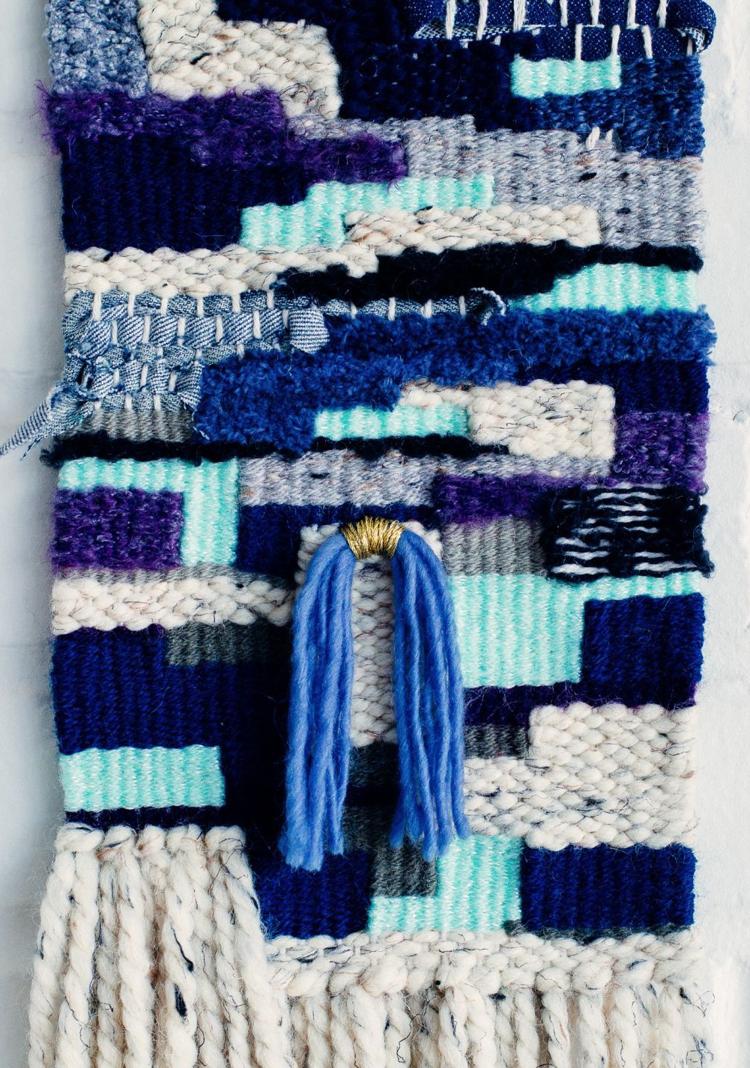 Bird, who currently works full time with vintage clothes at a local textile-recycling company called Remains and will soon pursue her love of weaving further at her dream school, Savannah College of Art and Design in Savannah, Georgia, taught herself to weave by studying vintage woven pieces, reading about traditional methods and going through the trial-and-error process as she practiced the art. She envisions her textile work as her own modern interpretation of the ancient craft. Although she takes inspiration from traditional weaving, Bird notes her designs tend to be softer and more abstract than many of the vintage textiles of the past.
To create her pieces of art, mostly woven wall hangings, Bird works on one of her multiple looms – all of which are self-made, handmade by local woodworkers or vintage from local thrift stores or online sellers. She begins with a rough sketch of a design idea and chooses her color scheme. "I tend to be drawn more toward interesting textures, so the actual look and feel of the yarn influences [the piece] more than anything else," she says. "I'm all about letting the materials dictate the design, so usually the finished piece ends up looking nothing like my original sketch." Bird uses vintage materials she has collected through the years from thrift stores and specialty yarn shops. "I make a point to buy handmade yarn if I have to get something new," she notes, adding that Knitorious is her go-to local yarn store.
Bird's textile designs are inspired by her daily environment, from an interesting shadow to a colorful plant or an unusual piece of fabric. "For me, it's all about natural balance," she says, noting that her work commonly features geometric patterns. "A lot of people compare my designs to [the tile-matching video game] Tetris. It seems that's where my hands and brain take me." Her designs focus on feeling, rather than appearance, she explains. "I'm all about blending soft yarns with scratchy ones, and natural colors and soft neutrals like creams and peaches with pops of rich jewel tones. I like the juxtaposition between clean and messy, quiet and loud."
Her smaller wall hangings – measuring around 10 inches by 10 inches – typically take about eight hours to complete, and she has spent more than a day crafting larger pieces, with her biggest creation to date measuring 30 inches by 30 inches.
To share her passion, Bird teaches a tapestry weaving class, as well as a woven "mug rug" class where students also make their own looms, at Perennial, a St. Louis community workshop and store. She also has a basic tapestry class planned for TechShop, a local do-it-yourself workshop and fabrication studio in the Central West End. "Each class will be unique, but all my students will leave with tons of weaving tips and tricks," she says.
Bird's art has appeared at many craft shows through the years, and it also has been featured in gallery exhibits, including a group show called "Art. Work." last February at Westminster Press, a St. Louis art gallery, consignment shop and printmaking studio, and the Create & Cultivate conference for female entrepreneurs in Atlanta in October.
Bird's textiles are available on Etsy. In the coming year, Bird plans to explore the expansion of Wabi Sabi by weaving rugs, as well as fabric to create pillows, blankets and clothes. She plans to work on these new endeavors as time allows and has no current time frame for when she might introduce these products. And as her business branches out, Bird's hope is that her passion for materials "that were loved long before [her]" will live on.
Wabi Sabi Textile Company, wabisabitextileco.com