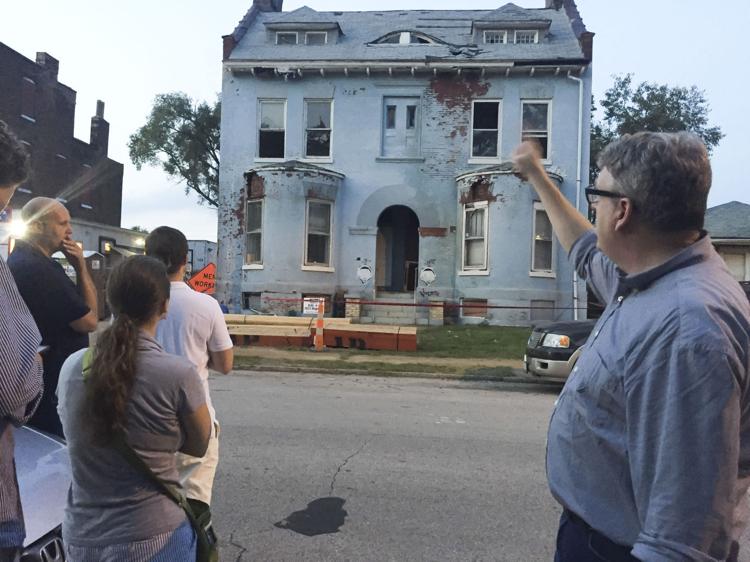 You've seen it on all the home-restoration reality shows, from HGTV's Flip or Flop to Rehab Addict – more people than ever have a passion for buying affordable houses to invest in through an extensive renovation or to flip and sell or rent. And St. Louis is no exception: With the growing number of rehabbers across the city, Revitalize St. Louis is answering the call to bring back its Rehabbers Club this fall.
Rehabbers Club, a group that helps homeowners remodel houses through expert-led classes and home tours, is an extension of Revitalize St. Louis, an organization that promotes the revitalization of the City of St. Louis through education and support of progressive civic projects.
The club, which is returning after a few years on hiatus, has hosted classes covering a broad range of rehab topics, from How to Be a Landlord, Real Estate Financing 101, Selecting a Contractor and Managing Investment Property, to Rehabbing Green, New Laws in Lead Abatement, How to Use Historic Preservation Tax Credits and How to Rehab Historic Windows.
"This series of classes is to help homeowners get some of their most frequent questions answered in a class environment that allows them to 'ask an expert' and to share experiences that can benefit everyone," says Stephanie Noecker, board treasurer of Revitalize St. Louis.
This fall, classes will be held from 11 a.m. to 1 p.m. Saturdays at Narrative Furniture, a handmade heirloom furniture-building company at 2501 S. Jefferson St. Classes cost $10 per session or $40 per five-class series for nonmembers, and $8 per session or $32 per five-class series for members. Seats are limited, so interested attendees should email info@rvstl.org to be added to the mailing list and receive Eventbrite invites to register for the classes.
The series kicks off Sept. 16 with Funding a Rehab and Using Historic Tax Credits, led by a local mortgage lender with expertise in 203(k) loans, and by Michael Allen, preservationist and historic tax credit consultant, followed by a class focused on Buying Land Reutilization Authority (LRA) Properties and Leveraging City Resources on Sept. 23, as well as What to Expect From Your Building Inspector on Oct. 7. "Private and city building inspectors familiar with the requirements of inspections will share their insight," Noecker says.
Courses continue Oct. 14 when local contractors will host a panel on Tuckpointing, Roofing and Tips for Hiring a Contractor. And on Oct. 28, Taking Design Cues From Your Space will be led by Andy Kim, founder and CEO of Narrative Furniture, and Heather Lents, an interior designer at Jacobs architecture firm in St. Louis.
Although classes are open to everyone, the subject matter is geared toward urban – likely historic – homeowners, Noecker says, noting that restoring a century home can be very involved. "It includes everything from getting the right permits to finding appropriate contractors, to locating historic fixtures, doors, mantels and more that you might need to finish the home," she says. "This annual series of classes aims to tackle the most common of those issues."
Scott McIntosh, a Rehabbers Club attendee and president and communications chair of the Benton Park West Neighborhood Association, joined the classes to learn firsthand about the historic home rehab process. "When I needed a contractor to do work on my home, I used tips on hiring a contractor that I learned from the classes," he says. "First, I vetted contractors by using the Rehabbers Club contractors list to get started. Secondly, I asked for references from past customers whom I called to learn about their experience. Lastly, I did not pay everything upfront, but by installments, until the work was complete." McIntosh, who also learned about historic tax credits and area resources for materials and subcontractors, says he encourages anyone who is interested in rehabbing a St. Louis home to take part in the club.
Stay tuned to Revitalize St. Louis' Facebook page for information about more Rehabbers Club activities, including tours of developing neighborhoods and special events. Interested local rehabbers also can join a more than 2,000-member email list, where they can share tips with one another and find inspiration for their next restoration project. With so many years of experience among the Rehabbers Club class leaders and members, McIntosh says what you can learn from them about home refurbishing is "invaluable."
Rehabbers Club, rvstl.org/rehabbers-club
Rehabbers Club Classes
Where: Narrative Furniture, 2501 S. Jefferson St., St. Louis
When: 11 a.m. to 1 p.m. Saturdays this fall
Cost: $10 per class or $40 per five-class series for nonmembers;
$8 per class or $32 per five-class series for members
Information: mail@rvstl.org, facebook.com/revitalizestl, rvstl.org/rehabbers-club
Details:
Sept. 16 – Funding a Rehab and Using Historic Tax Credits
Sept. 23 – Buying LRA Properties and Leveraging City Resources
Oct. 7 – What to Expect From Your Building Inspector
Oct. 14 – Contractor Panel: Tuckpointing, Roofing and Tips for Hiring a Contractor
Oct. 28 – Taking Design Cues From Your Space