The choice of a sofa frame and the accompanying fabric pattern and color palette frequently has more bearing on the overall design of a room than any other single furnishing. Indeed, sofas and their smaller counterparts, loveseats, often dictate the style of a space, whether it's a living room, family room or small study. In most cases, the sofa or loveseat serves as a focal point and anchors the design of the rest of the room. Bearing in mind the pivotal design role that sofas play in defining a room's style, we asked local retailers and designers to share their thoughts on key sofa trends for 2016 and how such trends can be incorporated into existing interiors.
Understated Elegance
Those with a taste for old-school glamour will swoon for the new streamlined Audrey sofa, the No. 1 trend pick of 2016 for Ethan Allen interior designer Deborah McLaughlin. Although not its namesake, the sofa captures the elegant and understated style of film star Audrey Hepburn. Upholstered in a chic pastel-blue fabric approximating one of Pantone's two 2016 Colors of the Year, Serenity, it features a gently curved camelback and gracefully flared arms. The result: a glamorous silhouette with a distinctly modern vibe, available at Ethan Allen's Chesterfield location.
"This tight-back sofa requires little maintenance (no fluffing or fussing with back cushions), making it perfect for those with busy lifestyles," McLaughlin says. "You can create your own look with this sofa by pairing it with timeless antiques or sleek, modern furniture. Audrey is available in a variety of colors, patterns, textures and leathers, ensuring that this timeless style can be adapted to work with new trends for years to come."
16860 Chesterfield Airport Road, Chesterfield, 636-536-2774, ethanallen.com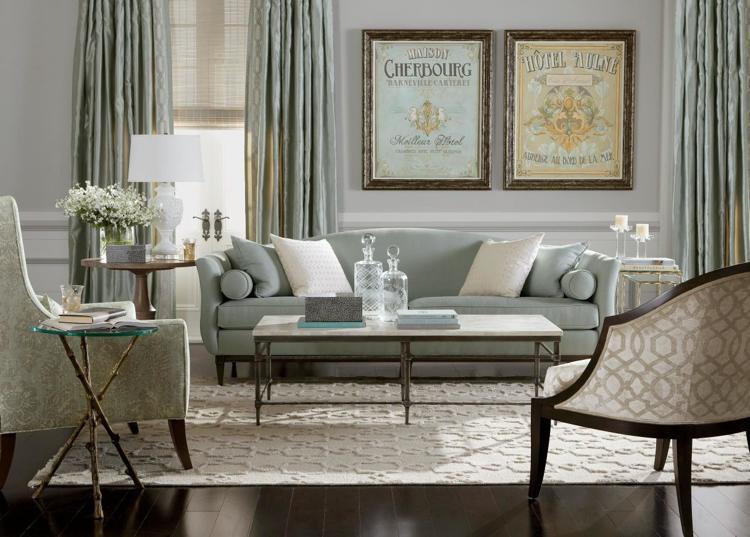 Tuxedo Required
Savvy Surrounding Style is the custom resource in Ladue known for its ability to design and procure furnishings in almost any style requested by customers. Asked to pick her choice for 2016 sofa trend of the year, visual merchandiser and buyer Lindsey Jungk didn't hesitate, choosing the tuxedo sofa originally made famous by interior designer Billy Baldwin.
"The tuxedo-style sofa is well-known for its sleek, modern silhouette and follows the current trend toward glamorous, sophisticated interiors," Jungk says. She describes the sofa as having straight arms the same height as the back, legs that are either upholstered or exposed, decorative tufts and no back cushions. Deep enough to lounge in comfortably, it isn't fussy, and this style easily blends with more traditional and rounded shapes in a room, adding interest and a subtle edge. "For example, an angular tuxedo-style sofa complements chairs with a curvy English scroll arm beautifully, creating a space that is harmonious and well-balanced," Jungk says.
9753 Clayton Road, Ladue, 314-432-7289, savvyladue.com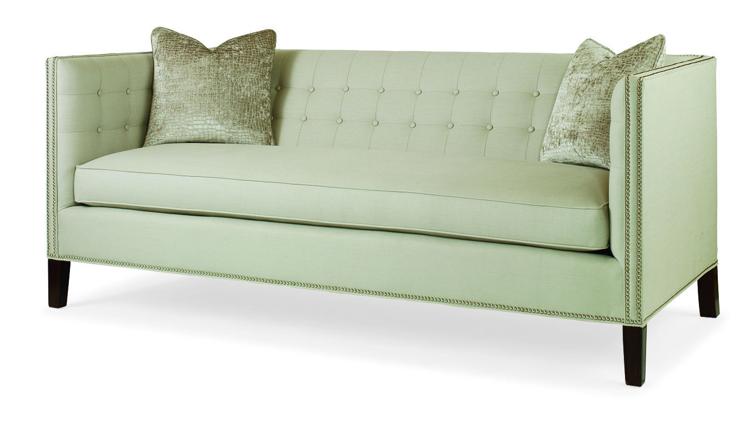 French Art Deco
In keeping with the overall trend in interiors toward streamlined designs, Edwin Pepper Interiors designer Carol Snyder chose a French Art Deco sofa as her pick for the top sofa trend of the year. "Art Deco has its origins dating back to the 1925 French Art Exposition in Paris," she says. "It was a period characterized by smooth lines, geometric shapes and streamlined forms. Now, almost 100 years later, this French Art Deco-inspired sofa is a classic style that transcends time. The artful sculptural lines, as well as the tapered legs with contrasting brass caps, are a nod to the period. This sofa works beautifully with the transitional to contemporary styles of 2016 interiors."
1573 N. Warson Road, St. Louis, 314-862-6339, edwinpepper.com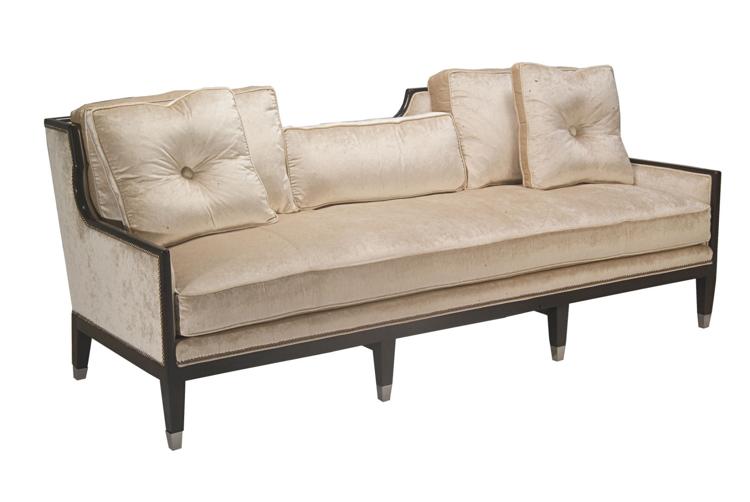 Modern Bohemian
Meanwhile, at Expressions Furniture in Ladue, one of the sofa trends in store for 2016 is modern bohemian, which speaks to the growing appreciation for interiors with a curated and collected look. The Expressions sofa pictured here exemplifies how upholstered pieces can work within that trend. The classic English frame is taken in a decidedly eclectic direction with a mix of washed linens and velvets in colors with names like Tobacco, Chocolate, Bordeaux, Mulberry, Olive, Absinthe and Spice. Like the tuxedo-style sofa from Savvy Surrounding Style, this frame features exposed legs and arms the same height as the back. However, the look is much more romantic, thanks to the gently curved sides and carved-wood details.
Anne Tipton, Expressions' co-owner, says this sofa can work in a number of interior settings but is an especially good choice for those who prefer traditional and transitional styles with an edge. Of course, Expressions specializes in customization and offers many fabric- and wood-finish options to blend with existing furnishings. The upshot? You can style a bespoke boho sofa to meet your specific needs and wants – and rest assured you won't see it anywhere but your own home.
7817 Clayton Road, St. Louis, 314-567-6200, expressionsfurniturestl.com