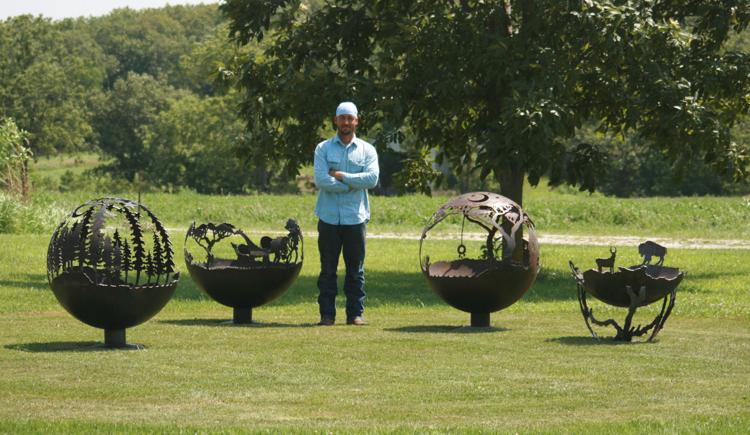 Imagine the soothing sound of fire crackling amid a scene from the Midwest countryside, St. Louis' signature skyline or even an African safari. That relaxing picture can be yours with a handmade backyard fire pit designed by a Paris, Missouri, man known as The Fire Pit Artist.
Matt Scarborough, a former industrial pipe welder for 10 years, always dreamed of turning his love of metal-carving into art. "From the day I picked up a welding torch, I made every cut count," he says. "I wanted to become precise at cutting and make it into an art form someday."
About six months ago, Scarborough's ideal career opportunity arose when his close friend, custom fire pit artisan Tom Davis of Tom's Fire Pits, introduced him to the art of handcrafting unique spherical pits. "Tom showed me the ropes of the business … and from there, I started coming up with my own designs," Scarborough says, adding that Davis has temporarily stepped away from his fire pit business to do missionary work.
Scarborough makes the pits by hand, so each is a one-of-a-kind sculpture, as well as a functional fire pit for your backyard. Each pit takes about a week to construct, from concept to completion. First, Scarborough sketches the design on paper, and then he traces that pattern onto the steel sphere. Next, he uses a torch to cut the design into the metal pit. "Sometimes I draw [the design] on the pit, then I take my torch and cut it out," he says. "As a welder, I have been practicing torch cutting for 10 years, so to pick up a torch and be precise comes easily to me now."
Each pit, measuring about 3 feet wide and 3½ feet tall and weighing between 200 and 300 pounds, can be used either as a wood-burning or gas-burning sculpture, or as a water feature. The pits are durable and long-lasting, made of either ¼-inch steel or 3/16-inch stainless steel, with prices ranging from $1,200 to $1,800 for the steel pits and up to $8,000 for stainless steel pits. For an additional fee, Scarborough delivers the finished fire pits to clients in the bistate area, as well as the Midwest region, from St. Louis and St. Charles to Springfield, Illinois, to Kansas City and beyond.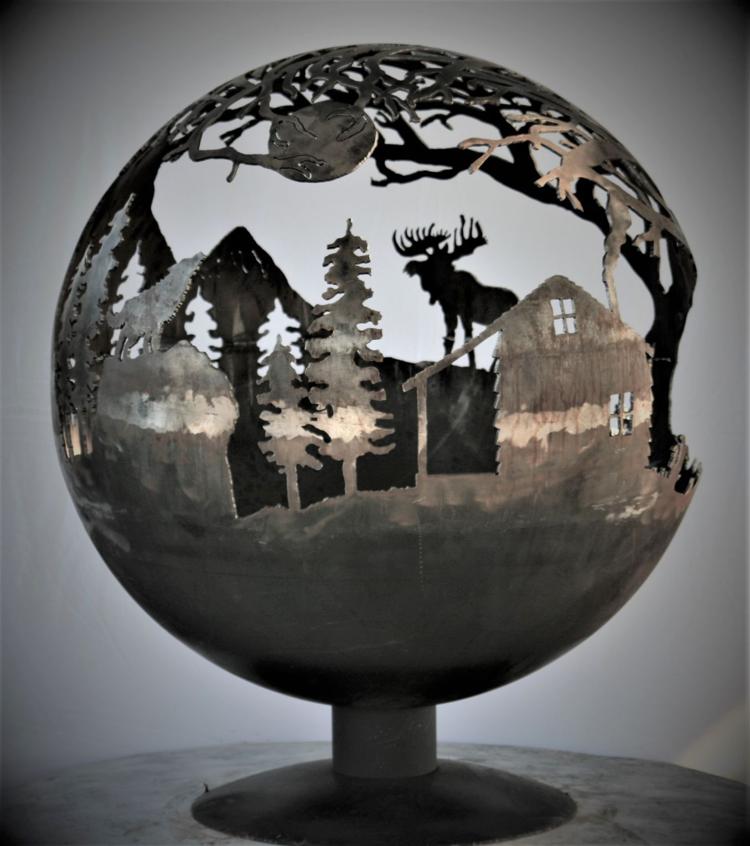 The artisan's unique fire pit designs are inspired by scenes in nature all over the world. His Safari Pit, for example, features giraffes and elephants walking through a lush jungle, while The City Pit depicts St. Louis' famed Gateway Arch, the Cardinals and a river steamboat.
The Mountain Pit, complete with a wolf howling at a full moon, is the artist's best-seller. Another popular pit is Scarborough's Cabin in the Woods, featuring a cozy log cabin and a charming tire swing amid a thick forest.
Scarborough's favorite pit harks back to his beloved childhood camping days: Dubbed Stars Through the Pines, it features twinkling stars and a crescent moon peeking through tall pine trees, much like his most cherished campsite view as a kid.
For clients who opt to use the piece as a water feature, additional offerings include LED lighting, fog, waterfalls or centerpiece ornaments, such as dolphins, trees, wolves or musical instruments.
And if clients desire a custom fire pit, Scarborough considers design requests or adds different elements to his established designs for a unique creation. Names or initials also can be added for a personal touch, he says.
Scarborough recently completed a custom pit for a client who requested a design that resembled her home's landscape; the resulting spherical scene depicts a woman resting on a hammock amid artwork, trees, sunflowers and cacti. "It was a challenge because of the fine cuts for the woman's face," Scarborough says, adding that he's always up for stretching his skill set. "My pits are idea pieces, so if someone has a unique idea, I can add it."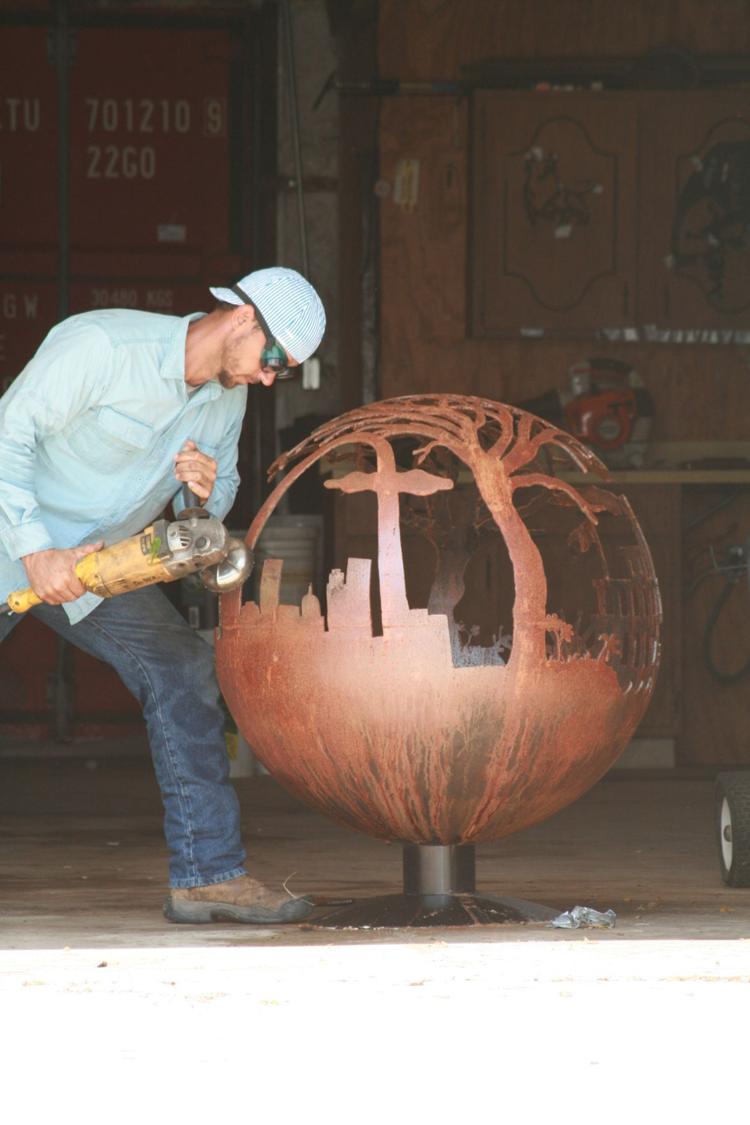 Scarborough says clients are always thrilled to see their finished fire pits. In fact, he's often invited to join the celebration of the first lighting of the fire pit alongside a given client and his or her friends – who often become Scarborough's next customers.
The fire pits are available to order online at Scarborough's website, as well as at Midwest art festivals and trade shows, which Scarborough frequents. He will next appear at the Midwest Salute to the Arts festival from Aug. 25 to 27 at Everett Moody Park in Fairview Heights, Illinois, about 12 miles east of downtown St. Louis.
The Fire Pit Artist likens his fire pits to a family heirloom built to last a lifetime and beyond. "They're made from carbon steel, or the same type of stainless steel as St. Louis' Arch," Scarborough says. "This makes [for] a very durable family collectible that will last for generations to come."
The Fire Pit Artist, 903-812-4263, thefirepitartist.com