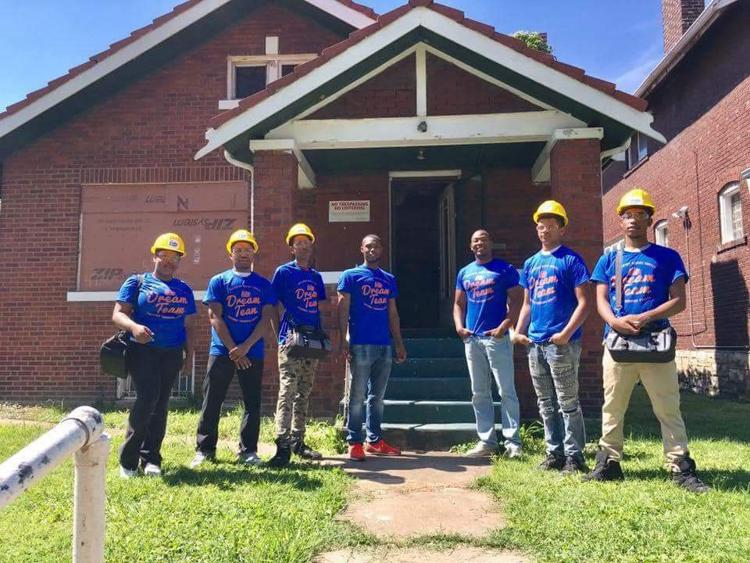 Two friends sat on a sofa in 2016, musing about their lives. Neal Richardson and Michael Woods had met almost 10 years before, when they were teenagers who struck up a conversation at church. As they looked back over the years, they recognized their own pride at overcoming obstacles and achieving success as young adults in a low-income neighborhood.
"I just thought, 'We need to figure out something we can collaborate on together,'" says Woods, who now owns Forward Progress Personal Training, has written three books and, along with his father, manages numerous rental properties. "We started discussing what we wish we'd had when we were younger – some of the information and knowledge we have now."
From that discussion, the concept for the nonprofit entity Dream Builders 4 Equity was launched. The pair decided to create a program that would serve youth in underfunded St. Louis schools and "be very intentional about showing them how people who look exactly like them and have had the very same struggles can achieve great things," Woods says.
Richardson earned an MBA with an emphasis in finance and now serves as a project manager at U.S. Bancorp Community Development Corp., where he has led the closing of more than $150 million in tax-credit financing investments targeted for low-income communities. Combining their expertise, they developed a program that incorporates mentorship, financial literacy, publishing and real estate development.
"These students really need someone to meet them where they're at and give them exposure to career and educational opportunities," Richardson says. By increasing awareness of what's possible, the program aims to help at-risk youth dream big and map a path to success.
Marvin Thomas numbers among 10 students from Beaumont High School who make up the first class of Dream Builders. The students were identified by Antoinette Cousins, executive director of AMIkids St. Louis, which works with Beaumont, part of Saint Louis Public Schools, to offer an alternative education program that's dedicated to helping at-risk youth in developing into responsible and productive citizens. The students, who were selected based on their interest in entrepreneurship and real estate, began the program during the spring 2017 semester and have already seen tangible results of their efforts. "It's been outstanding," Thomas says enthusiastically. "We're working on a house right now on the weekends. I want to be a landlord, and so I've got to know about housing. This is helping me build toward my career in the long run."
Thomas is referring to the capstone project of the Dream Builders 4 Equity program; however, before participating in the house-refurbishment project, he and his classmates studied financial literacy, took field trips to businesses and colleges to network with professionals and professors, and were required to open bank accounts and write daily journal entries about their experiences in the program. The journals were then edited by Woods, compiled and published in August as the book Together We Can Break Chains. Proceeds from sales of the book (available for $20 on the organization's website and through Amazon) go into the students' newly established savings accounts.
"The journals are a safe space to express how they're feeling; they can be honest," Woods says. The publication was heralded with a book signing attended by about 70 people, and sales have so far totaled more than $2,500. "I had to really collect my thoughts and summarize what the program meant to me," Thomas says of the journaling experience. Of seeing the fruits of his labor in printed form, he adds, "It makes me feel like I can help make change."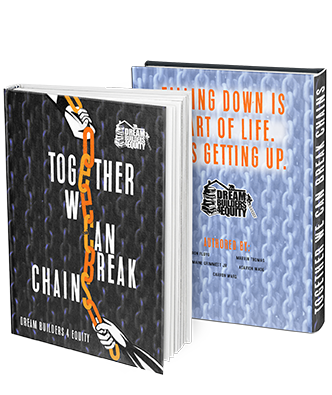 When the students complete the classroom portion of the program, which Richardson and Woods refer to as Dream Builders Academy, they turn their attention to a practical problem: how to help improve the kind of low-income neighborhoods they live in. "By this time, they've earned a little money and are intrigued by the next step," Richardson says. That next step is happening at Lewis Place, a three-block neighborhood north of Delmar Boulevard and south of Martin Luther King Drive.
"We chose the neighborhood because of the disparity in wealth and home values and the amount of vacancies and crime north of Delmar," Richardson says. "The students are excited about being part of the change within that community." Five students are working on weekends with tradesmen and contractors to rehab a house that's owned by Dream Builders 4 Equity, learning important skills along the way. The house will be completely renovated by April 2018 and sold to a low-income family in need, with 30 percent of the sale proceeds used to establish a student scholarship fund for the five students.
Richardson and Woods have big plans for Dream Builders 4 Equity's future. With support from Washington University in St. Louis as winners of the 2017 Social Enterprise Innovation Competition, presented in partnership with Skandalaris Center and the Brown School, as well as an increasing number of business and governmental partnerships, the duo is dedicated to "giving these kids some tangible wins." Next year they'll introduce the program at Lift For Life Academy High School, a St. Louis charter school, and Nance Elementary School.
"This is just the beginning," Thomas says. "If more kids do this, they'll see a lot more than they're used to seeing. They'll learn what they really want to do – and what they really can do."
Dream Builders 4 Equity, dreambuilders4equity.org