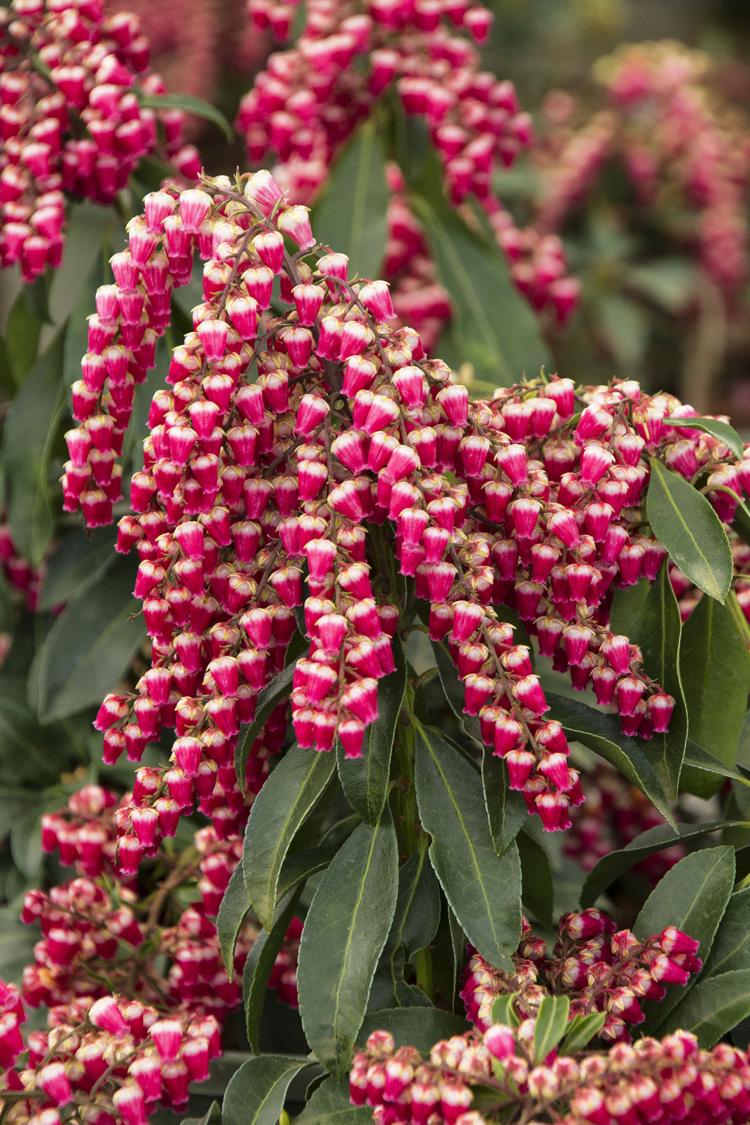 As weather warms and the spring bloom surrounds us, a gardener's itch takes hold. Going to a nursery without a shopping list, though, borders on going to the grocery store when you're hungry – you end up buying plants that you have no plan for. That bad habit brings chaos to any landscape plan, so we recommend reviewing your vacancies first.
A garden is a dynamic, living thing. It changes with time. For many of us, to bring in new plant material, something else has to go. Be ruthless when evaluating your current plantings, and compost or chain-saw poor performers. Newer varieties often offer superior qualities like disease resistance, thornlessness, repeat blooms or a wider color selection.
Here we spotlight new twists on three old favorites:
Heavenly bamboo (Nandina domestica) was scoffed at for years because poor pruning often made it look dreadful. It deserves a revisit, as many new forms have improved habit and winter hardiness. 'Blush Pink,' a vibrant, hot coral-red, broadleaved dwarf form, has done well in the garden of one of the co-writers. Other low-growing nandinas include 'Flirt,' with deep-maroon spring leaves, and 'Firestorm,' with brighter red ones. 'Plum Passion' and 'Sienna Sunrise' offer brilliant foliage color on taller specimens. The newest nandina cultivar, 'Chime,' looks a bit bizarre. It has very thin, threadlike leaves, creating a puffy, cloudlike, airy mound, but it works well for containers or in-ground plantings.
Japanese andromeda (Pieris japonica) has undergone a similar wave of new introductions. The straight species tucked in among the hostas has always provided a nice upright element with fragrant clusters of tiny white bells over glossy leaves. Similar in form, 'River Nymph' offers much larger flower clusters for a greater spring show, along with bright-red new leaves and greater lace bug resistance. 'Gay Goblin' has rich, deep-pink flower clusters and bronze foliage tips in spring. 'Brouwer's Beauty' is a hybrid (P. japonica x floribunda) with dense-flowering and lustrous leaves.
Hydrangeas have been leading the tidal wave of new woody shrubs. Dozens of new releases have bombarded the market in the last decade. Every spring brings a new flock with some must-have characteristic. This year, look for 'Little Quick Fire,' a dwarf form of the popular 'Quick Fire.' Both of these paniculatas bloom much earlier than most hydrangeas and have panicles that age to pale pink over the summer. Another rosy selection, 'Gatsby Pink,' represents a tall-growing oakleaf with flowers emerging white and deepening to pale madder over time. For a knock-'em-dead bodacious rose, try the water-loving macrophyla 'Let's Dance Rave,' which in our lime soils will be a rich, deep-carnation pink.