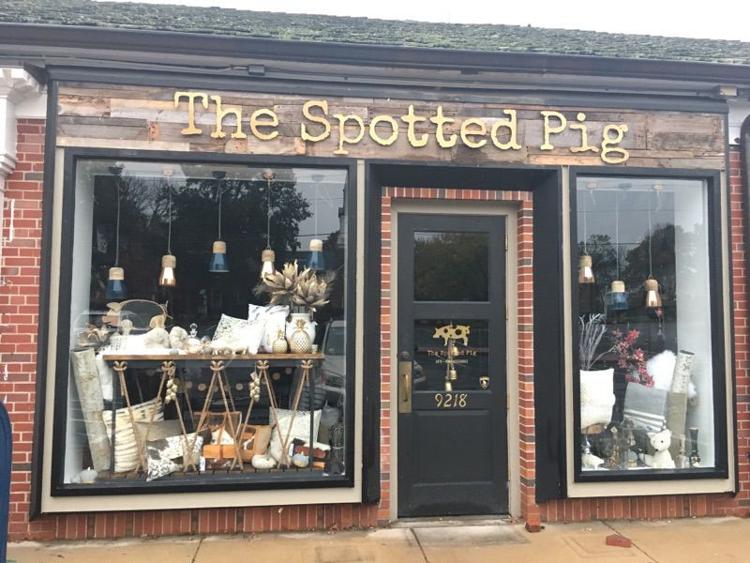 "There is no one alive who is youer than you." That Dr. Seuss quote is the idea behind Kristin Mayer's new Ladue home-goods and gift shop, The Spotted Pig. The artisanal owner understands that your home is an expression of yourself, so when you walk into her wildly eclectic store, you step inside her crafty, quirky imagination. "I enjoy being different and being me," Mayer says. "The more you believe in what you like, the more it seems people understand it – and [they] love the uniqueness of my mixing of styles."
Growing up in St. Louis, the Saint Louis University graduate immersed herself in the study of art and fell in love with everything from bohemian to vintage to rustic design. "I have always loved art, crafts and design," Mayer says. "I grew up with a mother constantly redecorating and a father who was a homebuilder, so I was surrounded with design all my life."
As she started her career, Mayer soon became familiar with the range of design tastes of local St. Louisans while working for local boutiques for 12 years and dreaming up her own ideal shop, named for her favorite animal – the pig. (She even proudly sports a pink pig tattoo on her wrist!)
The Spotted Pig is a rustic industrial take on home décor, offering unique, free-spirited household furnishings, vintage and statement jewelry, natural and enticing apothecary lines and more from the Midwest to the East and West coasts, and even Canada. "I attend the large gift markets and vintage markets all over for inspiration, and [I] have a knack for finding that perfect place on a road trip [for] unique finds," Mayer explains. "I go with my gut. I pick things that excite me – that look like nothing else I've seen around." The result, she says, is a shop with something for everyone – fashion and art lovers alike.
The store also offers its own The Spotted Pig custom furniture line, designed by Mayer and handcrafted by a local master carpenter. "He uses old-school techniques and stands behind all his masterpieces for a lifetime," Mayer notes. The line features custom-made, hand-carved furniture, including farm and coffee tables made of wood, as well as unique pieces, such as a dock cleat console table.
Among the shop's most popular pieces are items from its featured local jewelry artists, including custom vintage recreations by Sutton Lasater and fashionable statement pieces from Kate Pollmann and Collections by Joya, as well as apothecary lines such as Linnea's Lights and KOBO pure soy candles, and porcelain diffusers by Apothecary Guild and Illuminaria. "There are amazing candle companies out there, so I really try hard to find the smaller brands that have that same quality as the well-known, big-box companies, but offer a different look," Mayer says.
Mayer loves to surprise and delight her customers, whom she calls "beautifully eccentric free spirits and rustic bohemian souls." "They are fun, and they aren't afraid to be daring and choose items that make them smile inside and out, no matter what the trends are," she notes. "They believe in their style as their trend." And clients have responded to the store with enthusiasm. "People appreciate the effort I take to be so different and unique," Mayer says, adding that customers love her eclectic mix of styles that form the "it" factor in the perfect gift or home accessory. Mayer also enjoys getting to know customers' unique tastes and styles. "I feel very blessed seeing all the excitement a customer brings in each and every time [he or she] enters the shop."
Mayer plans to connect with more clients through craft classes. Although no dates are set, she has ideas in the works for fun gatherings for small groups to enjoy complimentary wine while crafting and making new friends.
"I love my customers!" Mayer says. "I love doing what makes me happy and then sharing that joy with others and seeing how much excitement my handwork gives them. Life is about what makes you happy."
9218 Clayton Road, Ladue, 314-274-7768, thespottedpigstl.com