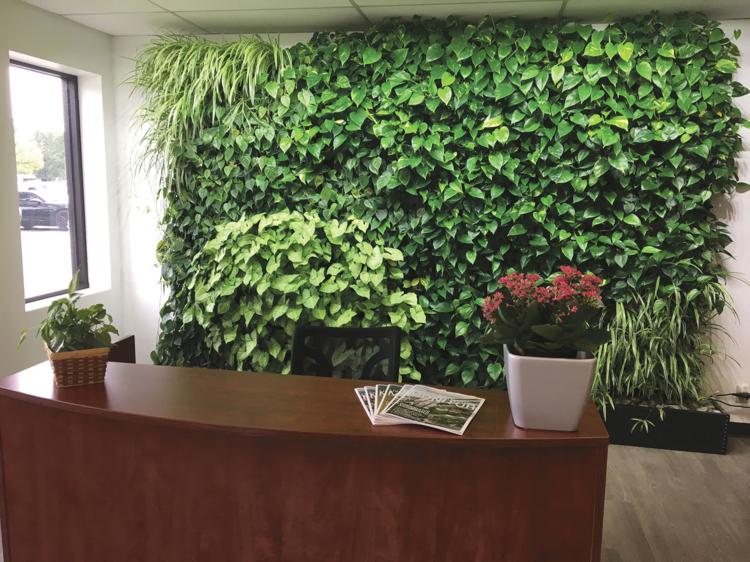 Studies show that plants help clean the air, decrease the risk of illness, improve mood and even enhance concentration and memory. Yet many people live and work in a concrete jungle, rarely stopping to enjoy the benefits of green space.
Mark Woolbright, division manager at Filtrexx LivingWalls in Fenton, lists even more benefits to ample plantings: noise reduction, urban cooling, biodiversity and carbon footprint reduction. Filtrexx creates "living walls" – vertical structures embedded with various types of plants – for both outdoor and indoor spaces. The walls are functional, often built as structural retaining walls, and beautiful, cascading with lush greenery.
"Filtrexx LivingWalls are sustainable, strong and green, backed by more than 15 years of supporting research and success with composted growing media," Woolbright says. "We use sustainable and local materials to help you create beautiful living walls that grow healthy plants."
Although Filtrexx is headquartered in Akron, Ohio, the company's nonretail Fenton location is open to the public, with live examples of several types of living walls where people can see what applications are available and begin the process of planning for a living wall in a home, office or landscape.
Structural living walls are used for restoration and stabilization of slopes and banks beside streams or lakes, and some structural systems, such as EarthBloxx, are as strong as traditional concrete products, Woolbright says. Yet they do something concrete never can. "They provide a more natural appearance while also increasing green space and habitat," he notes.
Vertical living wall applications, known as VerTexx Systems, can be used indoors or outdoors, again to increase green space and give a natural look. "Vertical living walls can also be used as screens or fencing for privacy or as a design element," Woolbright says. "Vertical systems are very popular and versatile for residential applications as well as businesses that want to add unique greenery features. They can be easily integrated at restaurants, cafés, breweries, offices, storefronts, health care facilities, schools and more. Living walls can also incorporate edible plants for growing local food." Although the vertical walls have been more popular with businesses so far, the structural applications are often used in both commercial and residential settings.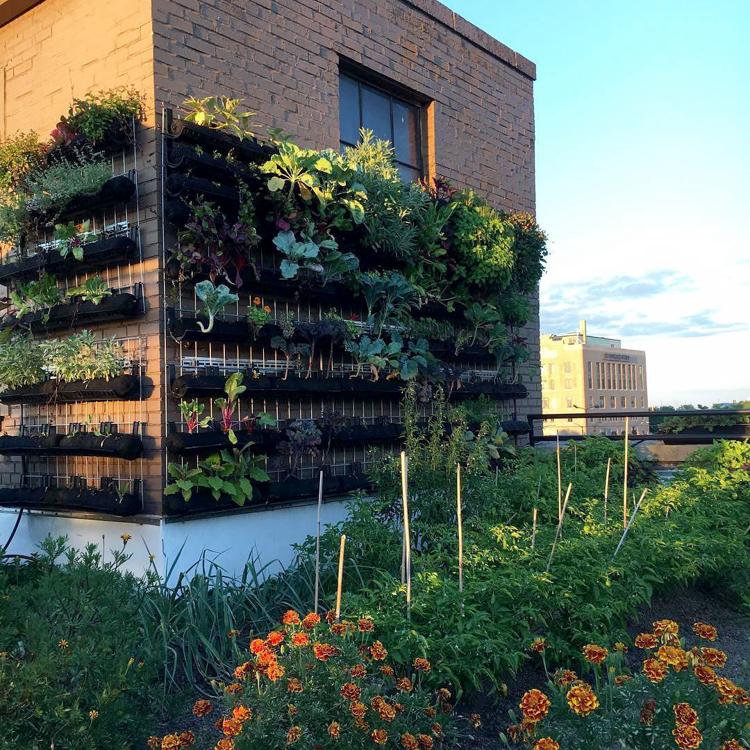 The VerTexx walls are manufactured from galvanized steel panels that contain planting trays that hold edible, ornamental or native plants. The trays contain Filtrexx GroSoxx or GardenSoxx, which are compost-filled mesh tubes. Mounting hardware, irrigation and waterproofing are other components of the wall installation.
"Our structural living walls are built with a variety of materials that include GroSoxx, geogrid [for stability], anchors and irrigation," Woolbright says. "The installation is quicker and less labor-intensive than many traditional options, with less equipment needed."
Whether indoor or out, living wall maintenance depends on location and vegetation, factors that are considered when planning the project, Woolbright adds. Most systems require minimal maintenance, and plants can be changed over time. "The design of the living wall would determine the 'life span' of the wall and if it is meant to be permanent or temporary," he says.
When planning to install a living wall system, placement and function are key considerations. The walls vary by size and slope, from small vertical indoor features to very large exterior retaining or stabilizing structures. Plants can include annuals, perennials, grasses, vines, flowers and vegetables. Irrigation and lighting are additional factors.
Not all Filtrexx products are used only for vertical structures. "The GroSoxx units work very well for green roof applications because the growing material can be customized, and it is contained and easy to place on roofs," Woolbright says. "We would work with a local green roof designer-installer to work out all the details of a project together."
Because living walls offer so many options in terms of materials and vegetation, costs vary widely. Woolbright says customers pay anywhere from $8 to $150 per square foot. "If you are interested in any type of living wall, give us a call to discuss your project with our team, and we can guide you through the process," he says.
Filtrexx LivingWalls Division, 23 Cassens Court, Fenton, 314-287-4470, filtrexx.com