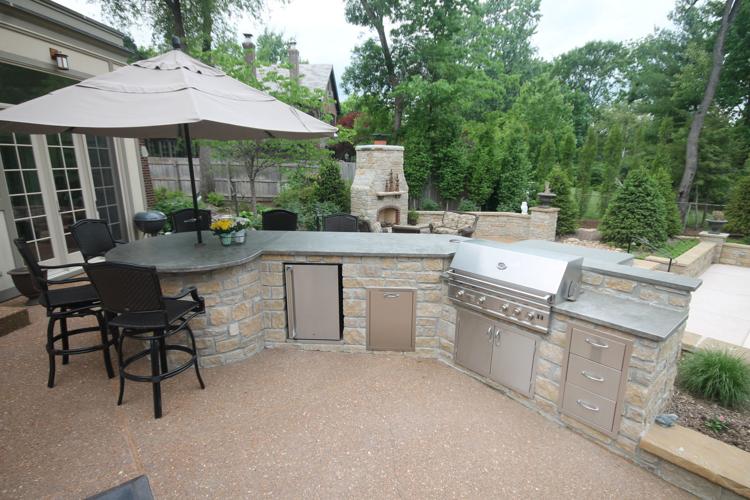 The weather's already turned warm, which means many area residents have forsaken air conditioning to enjoy and entertain in the great outdoors. Although kettle-style and propane grills remain popular, more and more people are enhancing their homes with luxurious outdoor living spaces that function just like indoor kitchens and sitting areas.
Current trends in outdoor food prep and cooking spaces include built-in ice machines and coolers, powder-coated stainless steel cabinetry, built-in gas grills, side burners, sinks, refrigerators, built-in trash bins and even outdoor-compatible dishwashers.
Those planning outdoor living spaces should consider a number of important aspects. "The main thing is the size of the space the kitchen would occupy," says Joe Mack, owner of The Mad Hatter, which carries a full line of high-end outdoor grills in addition to being a chimney and air duct-cleaning company in O'Fallon, Missouri. "What does the client want to accomplish with the outdoor kitchen, and what appliances does the client want to utilize in the kitchen area?"
Richard Poynter, owner of Poynter Landscape Architecture & Construction in Ballwin, usually installs outdoor kitchens as part of complete outdoor living projects that often include pools, patios and other additional spaces; however, his company can install stand-alone outdoor kitchens as well. "Sometimes it's about fitting an outdoor kitchen into the space and the limitations you might have available," Poynter says. "Other times, when space is not at a premium, the goal is to have a well laid-out, perfectly functional kitchen."
However, he adds that if the layout or design is not quite right, it's not easily changed, so design and layout are important to start. "I'm sure most of us, at some point in our lives, have lived in homes or apartments where the kitchen layout was not optimal, and you notice it every time it's used," he says. "Get the planning right – then all the pieces come together."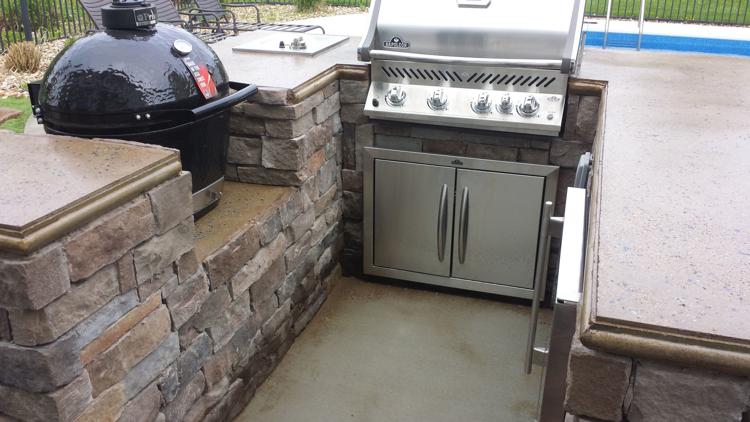 For instance, some outdoor kitchens adjoin comfortable dining and seating areas. Others incorporate a bar-height counter where guests can sit and enjoy a beverage while chatting with the cook. How much dedicated countertop space is needed and how many people usually gather for an outdoor meal also matter. Another key part of the planning puzzle is the ease or difficulty in hooking gas and electric to the new cooking area, Poynter adds.
"Outdoor kitchens can be complicated," he says. "Just as with indoor kitchens, there are a lot of specific trade skills all coming together to build one. Stonework, gas, electric, plumbing, granite, cabinet installs – all with little margin for error, in most cases."
A simple 7-foot kitchen island starts at about $6,000, according to Mack. "Several manufacturers offer preassembled island packages that can be assembled on-site in as little as three hours," he says. "Our average custom outdoor kitchen setup is a U-shaped-type kitchen that falls in the $10,000 to $15,000 range."
Mack's biggest sellers in grills are Firemagic, Big Green Egg, Napoleon, Summerset and Traeger Pellet Grills. He notes that these brands are available at several price points and offer manufacturer warranties from two years to a lifetime. They are available as stand-alone products or can be incorporated into larger built-in spaces. "My best advice on grills is that the more bells and whistles or features they have, generally speaking, the more issues [that] can occur," Poynter says.
However you envision your outdoor kitchen, consult a professional who can help you through all the options. "It's always a great idea for the client to set a budget and consult with several different companies before signing any contracts," Mack says. "Always check the reputation of the company, check company reviews from actual clients who have had similar work performed, and make sure the contractor carries the proper insurance and performs the work to meet the requirements of local authorities having jurisdiction. Planning is very important."
The Mad Hatter, 1109 E. Terra Lane, O'Fallon, Missouri, 636-946-1622, madhattersl.com
Poynter Landscape Architecture & Construction, 15815 Jedberg Lane, Ballwin, 636-256-2600, poynterlandscape.com