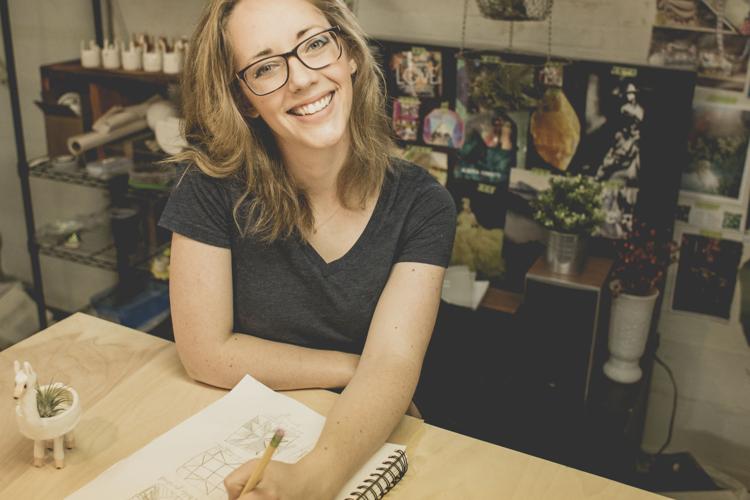 A petite planter in the shape of a llama wearing a monocle recently garnered local ceramics artist Chelsea Wilkins a whopping 15,000 likes on Etsy's Instagram account and resulted in what Wilkins calls "an unexpected, but awesome" spike in sales.
The whimsical piece is among Wilkins' line of fun and functional pottery from her St. Louis-based business, Scavenge + Bloom. "I love functional pieces of art," Wilkins says. "My pieces are like [the unique home décor] you would find at Anthropologie."
Wilkins, who earned her Bachelor of Fine Arts degree in graphic design at Truman State University in Kirksville, Missouri, and a teaching certificate at the University of Missouri-St. Louis, was a part-time art teacher at a local private school for two years before striking out on her own artistic career path. "I had this fine art vision that evolved into decorative, functional housewares," she says.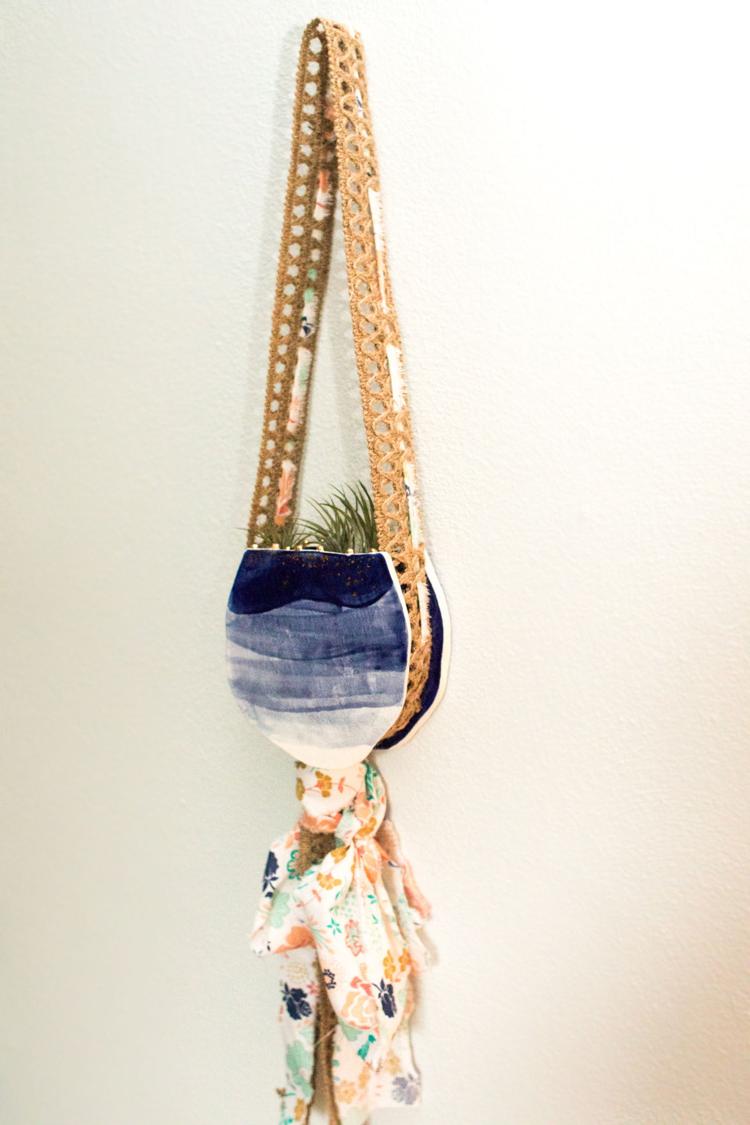 Last fall, Wilkins launched Scavenge + Bloom with a line of ceramic home goods, including plates, platters, bowls, napkin rings, travel mugs, coin banks and planters. The best-selling planters are available in a variety of animals, from pigs to flamingos, and the most popular selection – llamas. Wilkins calls the creations "monomals," a combination of the words animal and monocles, which are worn by each creature.
Wilkins crafts her housewares out of her basement studio, which is outfitted with a slab roller and medium-size kiln. She handcrafts each piece, apart from watercolor travel mugs that she purchases and paints and spherical coin globes, which are made in Wilkins' design by Golden Kiln in St. Louis, before she glazes them.
Although Wilkins typically crafts pieces in bulk in about a four- to six-week period, she also takes custom orders, including monogrammed items. She likewise makes it a point to locally purchase all of her materials, including clay and glaze from Krueger Pottery Supply in Webster Groves and art supplies from Artmart in Brentwood.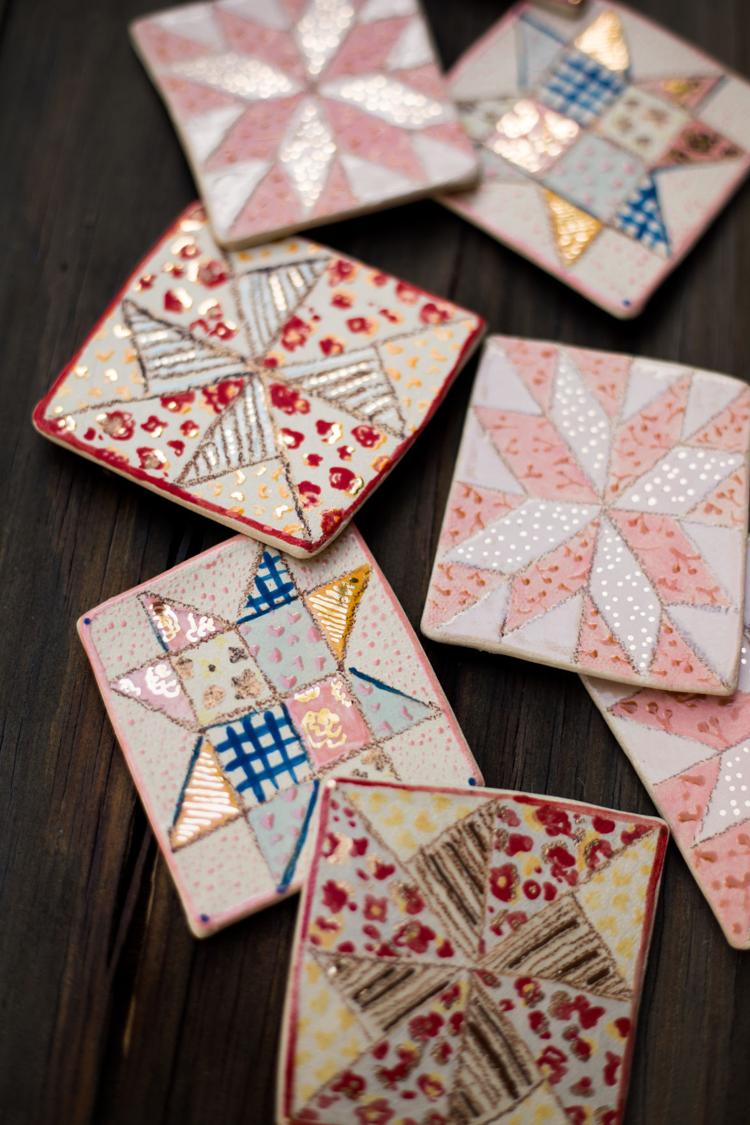 Wilkins has shaped her pottery-making skills through the years with ceramics classes in high school and college, later picking up more in-depth knowledge from two local mentors who are master potters. "I learned a lot of technical things from [my mentors], and I get a ton of advice from Krueger Pottery Supply, which has been willing and able to help me," she says.
Recently, Wilkins has started to find her design aesthetic, which she describes as eclectic bohemian. "I like the handmade aesthetic that doesn't look mass-produced," she says. "And I use neutral tones with pops of color."
Although each of Wilkins' pieces is unique, the trademark on all of them is a 22-karat gold detail. You'll find the gold shimmering from the monocles of her animal planters and as shiny speckles or borders on her dishes. "I like to use gold on all my pieces," she says. "It adds a little fun and fancifulness to it."
Scavenge + Bloom also has two new lines in the works. The first line is nature-inspired, incorporating real flowers and weeds into the pottery, including platters bordered with gold-lined vines. "I am dipping the actual plant into liquid clay and laying it on the platter, then I fire it," Wilkins says. The second line features hand-drawn fibers on the pottery, including coasters with hand-drawn quilt block illustrations inspired by vintage quilts, all also designed and illustrated by hand. The new fiber line was inspired by Wilkins' family history of vintage quilt-makers on both her mother's and father's sides of the family, from the artist's aunts to her grandmothers. Wilkins' grandmother has sewn more than 50 quilts for her children and grandchildren. "Vintage quilts have such a great quality to them, and so much work goes into them," Wilkins says. "They are very charming but also functional."
Wilkins' pottery is also inspired by ceramics artists such as Molly Hatch, whose creative home goods can be found at Anthropologie.
She otherwise draws inspiration from nature and fashion photography in magazines from National Geographic to Vogue. "It gives me a hint of what's trending," she notes. The photos serve as a starting point in Wilkins' design process, which continues with writing and sketching ideas before handcrafting, painting, glazing and firing her pottery pieces.
Scavenge + Bloom's lines are available online through Etsy and locally at Flowers & Weeds floral shop on Cherokee Street and Union Studio art shop in Botanical Heights. Wilkins' pottery also will appear at the Strange Folk Festival in Lafayette Park in St. Louis from Sept. 22 to 24.
Wilkins will be the first to admit her creations are not the typical home goods – and she and her clients like it that way. "I don't do typical pottery," she says. "A lot of the shops and the customers appreciate that it looks unique and different."
Scavenge + Bloom, scavengeandbloom.com