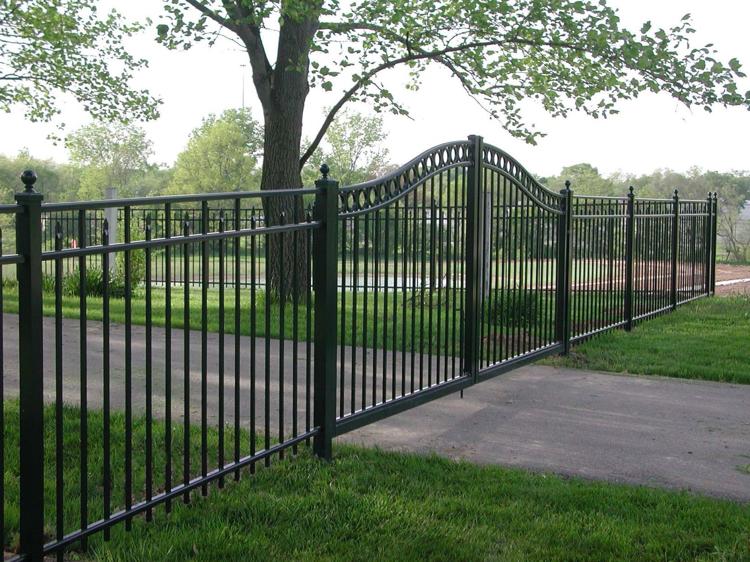 A fence surrounding your property can be not only practical and protective but also decorative, adding curb appeal to your home for years to come.
Today's homeowners favor both elegant and functional fencing, from natural cedar fences to low-maintenance vinyl fencing and ornamental aluminum fences for an upscale, contemporary look, says Shari Thiel of Chesterfield Fence & Deck Company, which has served the St. Louis area for almost 50 years. "Our most popular cedar and vinyl fence styles are the picket- and privacy-fence styles, and our most popular aluminum fence style is our three-rail, Ascot-style fence," Thiel notes.
Homeowners often opt for 4-foot and 6-foot fences, says Chuck Easter, president of Easter Fence, Deck & Renovations, which has served St. Louis for 60 years. "The 4-foot fences are usually used for either pet or child containment, to meet swimming pool code or purely for decorative reasons, [while] 6-foot fences are generally for privacy or security," he explains.
For style-savvy clients who desire a custom fence, local outdoor-living companies offer a variety of materials, colors, designs and accents to make your yard unique. Chesterfield Fence & Deck offers decorative, ornamental aluminum fence designs with a variety of adornment options, such as finials, rings, scrolls, arched gates and ball caps. "We also custom-build all of our wood fences, allowing us to offer custom arched wood fence sections, custom scalloped sections and French Gothic post tops, which are pointed at the top of the post for a nice decorative accent," Thiel says, adding that the company's custom-built New England-style cedar wood fence is a popular selection. Unique accents also include lattice and Victorian features on vinyl privacy fences, along with pointed and dog-ear picket caps on vinyl picket fences, Thiel adds.
To select the right fencing for your family's property, professionals work with homeowners to determine the purpose of the fence. The most common purposes are to provide pet containment, privacy, pool perimeters and protection, or simply to beautify the property. "The fence must be constructed to meet the intended purpose," Easter says. "If it's containment of small pets, we may need to do some landscaping along the bottom of the fence to fill in voids where the terrain is not level … or install pickets closer than standard if the pet is likely to try to squeeze through the opening. If the fence is for security … , various types of locking mechanisms can be used on gates, commercial-grade material can be used for added impact resistance, privacy material can be added to limit visibility from outside the fence, [and] the height of the fence can be increased."
Local experts say most of today's fences are virtually maintenance-free due to their sustainable materials. "Pinnacle Vinyl Fencing, our newest fence product offering, is a vinyl fence with a rich woodgrain texture that is made to look like wood fencing, but without the maintenance," Thiel notes, adding that it comes in an array of natural-looking colors, including golden oak, mahogany and walnut. For instances where your fence does need work, local companies offer services to keep it beautiful and functional for decades – and even a lifetime. Easter Fence, Deck & Renovations provides cleaning of vinyl fences, staining of wood fences and inspections and repairs for all types of fencing. Most of Chesterfield Fence & Deck's products are low-maintenance, eliminating the need for annual servicing, Thiel says. "Our cedar fencing has a 20-year warranty, even if it's never stained or sealed, and our vinyl and aluminum fence products both come with a limited lifetime warranty, and there is virtually no maintenance on them except for [occasionally] cleaning off the outdoor elements."
To complement your fence, Rescue Landscaping & Outdoor Living can install custom-designed stone retaining walls at the base of the fencing or surrounding landscaping. Owner Bob Krull says homeowners are opting for sleek, contemporary materials that give their backyard a modern look. Krull collaborates with individual homeowners to create a seamless style outside their houses, from the fence, retaining walls and deck to the landscaping. "I like to use Techo Bloc's new Graphix wall block for people who want to spice it up or add a modern feel," he says.
Many of today's trends in fences are aimed at aesthetics, rather than security, area experts say. Whatever the purpose for your fencing, local professionals can work with homeowners to meet the unique needs of your family and property. "If a customer has an idea in mind," Easter says, "we can design the product to match the vision."
Chesterfield Fence & Deck Company, 620 Spirit Valley East Drive, Chesterfield, 636-532-4054, chesterfieldfence.com
Easter Fence, Deck & Renovations, 6071 Lemay Ferry Road, St. Louis, 314-892-8500, easterfenceinc.com
Rescue Landscaping & Outdoor Living, 9727 Dielman Rock Island Industrial Drive, St. Louis, 314-363-9417, rescuelandscaping.net