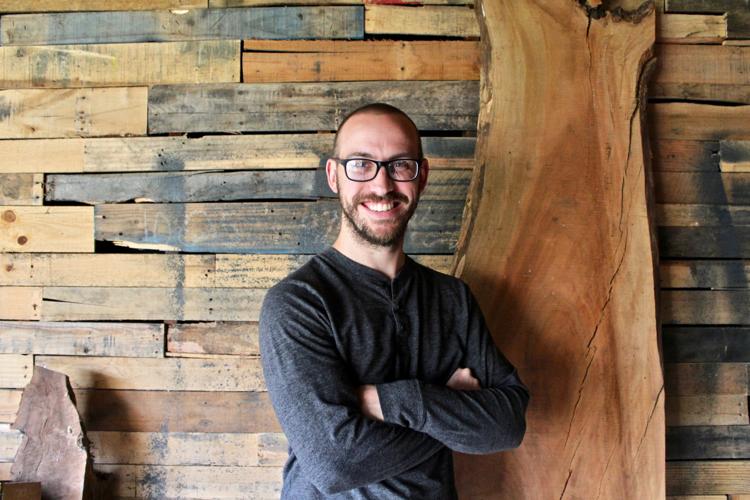 Every piece of hardwood furniture that Cory Herweck creates is crafted with purpose.
The local artisan, who fell in love with woodworking in middle-school shop class, brought his dream career to fruition in January, launching Cory Herweck Woodworking out of his 100-year-old historic home in downtown St. Charles.
After working in local home-improvement stores and lumber yards for several years after college, Herweck recently had been trying his hand at his own woodwork. When he successfully crafted a dining table out of an old wooden barn door and iron piping for a friend's home in 2014, he knew he'd found his calling. "I love the natural beauty that the wood gives," Herweck says. "There's something about the character, when you have six colors in the span of 6 inches … I think of how I can do something different with every slice."
Today, Herweck crafts a mix of rustic-meets-modern furniture and home accessories, from his most popular pieces – geometric shelves, available in oak, maple, walnut or cherry wood – to custom dining and coffee tables, cabinets and desks, and cutting and serving boards.
The St. Charles native is inspired by the unique angles and contemporary look of midcentury modern furniture. "I make midcentury modern furniture, with the twist of using different types of wood than are traditionally used with pieces of this era," he explains, adding that he typically chooses white oak, red oak, teak, walnut, maple, sycamore and elm to add new flair to the furniture.
With each creation, Herweck aims to preserve the story behind the wood, from where it was rooted to how it was used. Each piece he uses is milled at local lumber yards, including sustainable hardwoods from Wunderwoods Custom Hardwoods in St. Charles, where he works part time. "I love tracking down where the wood came from and the story behind it, so it gives the piece history and character," he notes.
Among the artisan's recent pieces are a sofa table, triangular shelves and a media cabinet crafted from quarter-sawn red oak harvested from a family friend's farm in southeast Missouri. He also created a kitchen table from an elm tree felled in Maplewood, a desk and dining table from a fallen walnut tree in St. Charles, and a white oak wet bar, also sourced from St. Charles. "I want my furniture to make people's homes feel more comfortable," Herweck says, adding that he's expanding his woodworking repertoire to a wider range of "homey" accessories, including headboards, dressers and side tables.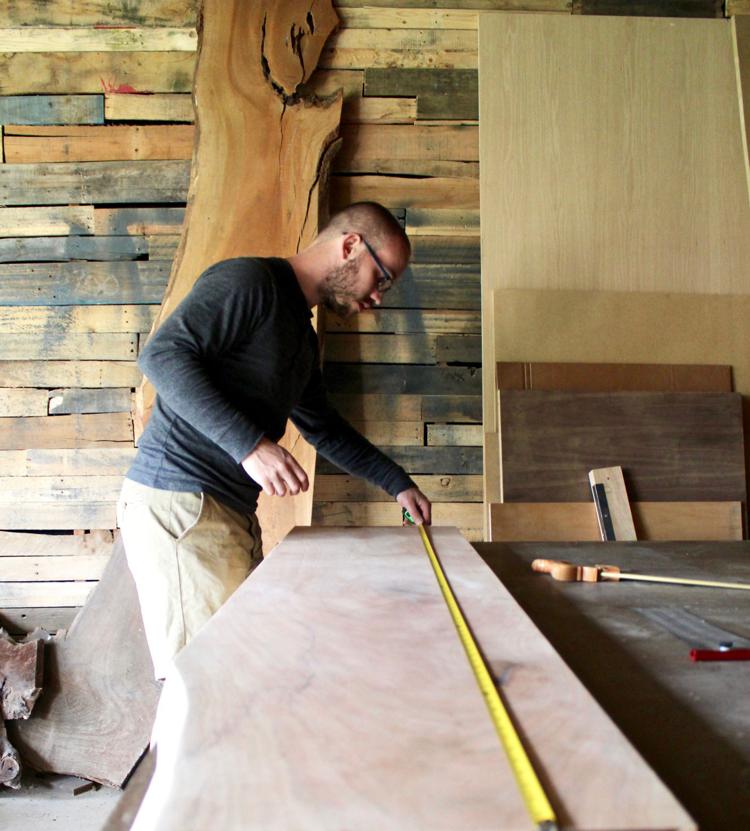 For a handcrafted custom piece from Herweck, prospective clients can contact him by phone or email or through his website to discuss their vision for the design-and-build process. Herweck collaborates with each customer to get a sense of the piece's design and purpose, as well as the space it will complement. He then creates a digital design for the client to approve before building the custom item. Every build is different, depending on the type of wood and the design of the piece, according to Herweck. "With the exception of my triangular shelves, each piece is a one-off creation," he says.
Those unique items, all with a different story, give homes character, Herweck notes, adding, "I want people to say my piece fills a purpose in their home." He also takes the purpose of his pieces a step further by donating 5 percent of their sales to a local or regional urban garden.
After work as a Christian missionary exposed Herweck to an urban garden in Memphis, Tennessee, he chose to make easier access to healthy food the philanthropic cause of his woodworking business. Herweck hopes to benefit St. Louis-area sustainable farms, as well as the Memphis urban garden, where discounted organic food is offered to families who live in food deserts. "I want to help people in need who live in food deserts gain access to sustainable food," he explains. "My woodwork is also sustainable, so it all ties in.
"Everything I do is crafted with purpose, whether it's helping a family who needs better food or people who need a better atmosphere in their homes."
Cory Herweck Woodworking, 314-397-8770, coryherweck.com