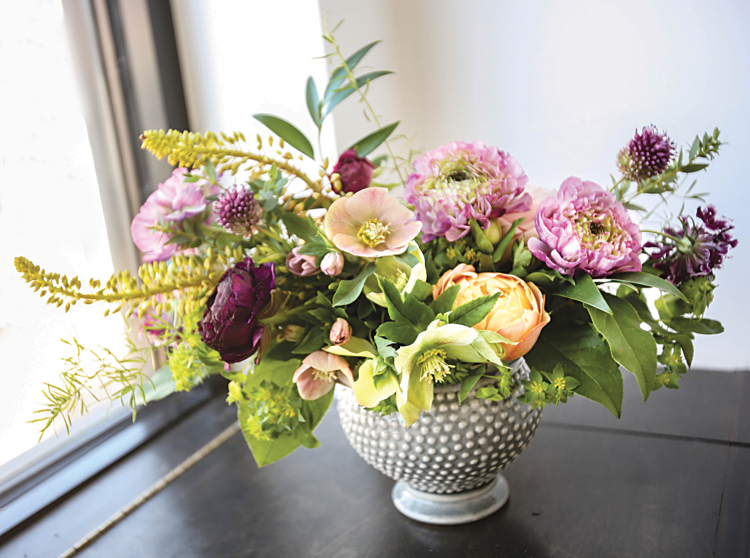 If you dream of assembling gorgeous floral arrangements to share with friends and family or to brighten up your home, Snapdragon Studio has a solution.
Owner and lead designer Silvia Dadian-Smith understands why people want to make their own arrangements. "Creating a unique floral design is such a meditative and creative experience," she says. "When I first started working with flowers, I just fell in love with the process, and I was constantly looking for an opportunity to get my hands on a wide variety of blooms and play with new, hard-to-find flowers. I found it can be challenging to know where to look, and I've met so many people who feel the same way."
That realization led Dadian-Smith to create "flower bars," collaborative events in which she shares her passion for floral design through instruction and hands-on practice. "We've had such a fantastic response to the concept," she says. "It's so rewarding to see how happy it makes people to try juxtaposing different flowers in arrangements, play with new color combinations and figure out what visually appeals to them."
She started offering flower bar events in 2015 and since then has held at least one per month, partnering with local businesses including Bowood Farms, Urban Matter, Mesa Home and TechArtista for "pop-up" flower bar events for the public. Flower bars as private parties are becoming increasingly popular, too. "We've been so thrilled by the interest in them, and we're very excited to announce that we'll be opening a storefront in Tower Grove South this summer, where we'll be able to expand the flower bar concept as a weekly event, as well as host private events," Dadian-Smith says.
Participants work with local flowers whenever possible, creating arrangements or wreaths from seasonal blooms. Flowers and greenery are sourced from area suppliers, such as Flower Hill Farms and Urban Buds.
Dadian-Smith encourages participants to experiment when introducing them to the materials. "We like to focus on introducing guests to the materials and how they might be used – for example, how a sturdier stem or branch might be used to create support in an arrangement, while more delicate stems might be added at the end of the arranging process as a textural detail," she says.
Flower bar patrons learn best practices for arranging, maintaining and displaying flowers for maximum freshness. And although Dadian-Smith shares her perspectives and strategies for curating and combining flowers and greenery, she tries to avoid letting her aesthetic become the "right" way to do things. Participants often return for subsequent events so they can develop individual style while incorporating basic tenets of professional flower arranging.
Flower bar parties are customized for the client's preferences, Dadian-Smith says. "We'll typically pick one project – for example, vase arrangements, floral crowns, succulent terrariums or wreath-making, among others – and then source flowers, foliage and vases based on the feel of the event, with an effort to be as seasonal as possible whenever we can," she explains. "In the past, we've worked with clients at their venue of choice or collaborated with local businesses as a 'pop-up,' but we're thrilled to be able to soon host guests at our storefront."
Dadian-Smith has noticed more garden-style arrangements using a variety of materials in natural-looking designs. She encourages participants to try unexpected combinations of colors and look for materials at farmers markets and in their own backyards. "Play around, see how things hold in water and don't be afraid of mistakes," she recommends. "You might find some awesome new things you'll return to throughout the season."
Although flower bars have proven popular and will be a more prominent part of Snapdragon Studio in its new Tower Grove South location, Dadian-Smith continues to specialize in floral design for events, especially weddings. "Our new storefront on Morganford [Road] will be open in July, and we'll be offering monthly seasonal arranging classes, as well as hosting a weekly flower bar where guests can drop in, select from a curated collection of blooms and design their own arrangement in the shop," she says.
Snapdragon Studio is already taking reservations for private parties in the new storefront and will continue pop-up collaborations with local businesses. Seasonal arranging will be the topic of Dadian-Smith's next class this Sunday, March 19, at 11 a.m. at Bowood Farms. Tickets cost $60 and can be reserved by calling 314-454-6868. Check Snapdragon Studio's website for regularly added new events.
Snapdragon Studio, 314-705-0102, snapdragonstl.com