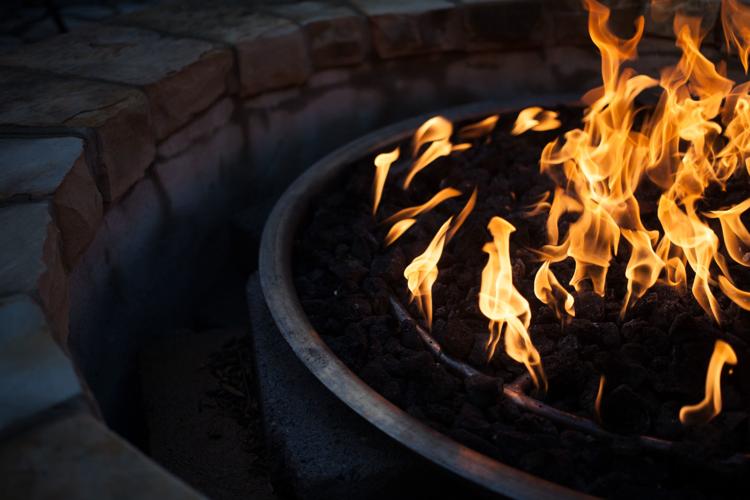 A fireplace can transform a space with its warmth and beauty. However, when built under the stars, a fireplace can transform an ordinary outdoor space into a serene retreat for friends and family alike to enjoy.
John Brown, general manager of Deck & Patio Living, prides himself on helping clients build one-of-a-kind outdoor fireplaces.
"We truly try to get people to influence and figure out what they like because that's what makes it where, five years from now, when you go outside to have coffee or you're out there at night and when you look at it, you smile because you think, 'That's mine, no one else has that,'" Brown says. "You can't look across the street to see your neighbor has the exact same one."
Brown says figuring out a client's vision for the aesthetic of the fireplace is usually the first item on the agenda, and for that, he always recommends clients turn to Pinterest for inspiration.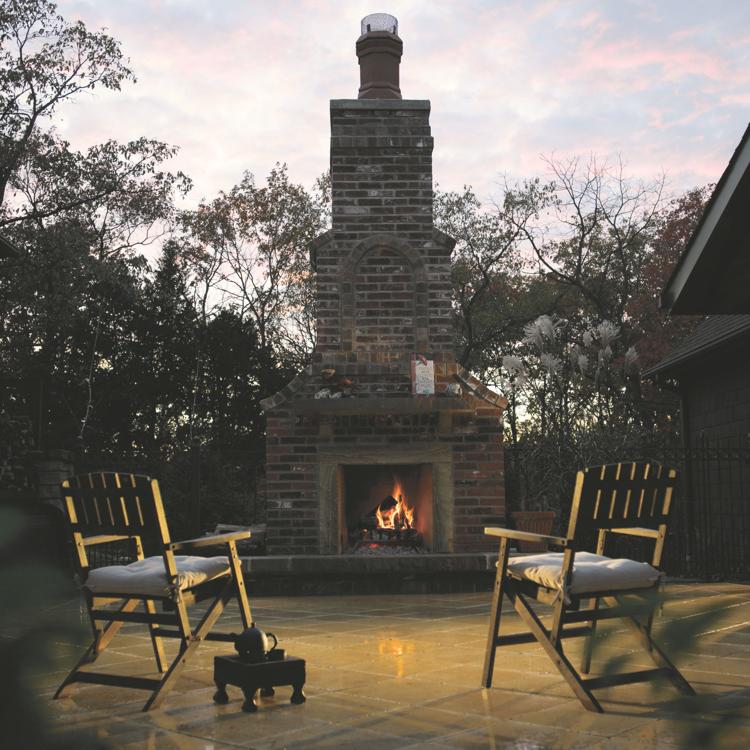 "The invention of Pinterest has helped my industry and me personally, amazingly," he says. "That way, I'll have a pretty good idea of what you like and don't like. From there, we start putting it into the computer, editing it and showing you what it looks like."
Some customers, though, aren't necessarily into the design component of the process. "They say, 'You're the expert, design it, show me two or three different options, and I'll pick the one I like best," Brown says. "And that's fine, too."
After a client shares his or her vision with Brown, he and his team check local codes and conduct an on-site visit to measure the grade of the yard, take pictures and get an overall assessment of the space.
"I try to look around to see if [he or she] has an existing design going on," Brown says. "I try to see what elements I can take from the existing [space] and try to tie into the new just to get as much continuity as we can so it doesn't look quilt-worked together. You want it to look like it was designed all at one time."
From there, measurements from the on-site visit are put into 3D software, along with the complete design, so clients can see what their finished fireplace will look like. If approved, construction will begin shortly after, depending on the season.
Richard Poynter, president of Poynter Landscape Architecture, agrees with Brown but says adding an outdoor fireplace is usually just one of many elements clients seek in their outdoor spaces.
"Sometimes they have a list of seven or eight different components that they want in there or that they think they want in there," Poynter says. "Fire might be high on their list, or it might be a major component of it, and they are trying to figure out what [is] the best way to incorporate that."
Poynter says the first item on his company's agenda is to conduct an on-site meeting with the client, similar to Brown's process.
"When we're designing an outdoor living space in general, we want to get an understanding of the family size [and] how [people] flow [in the yard] so that we can better design an outdoor space," Poynter says. "You want to build things that have good, long-term value for people. Outdoor spaces are hard to modify and change once they're built since so much of it is hardscaped, so incorporating things that they want based on their family size and home size that will have long-term redeeming value for the client, as well when they go to sell their home, is something we would generally advise on."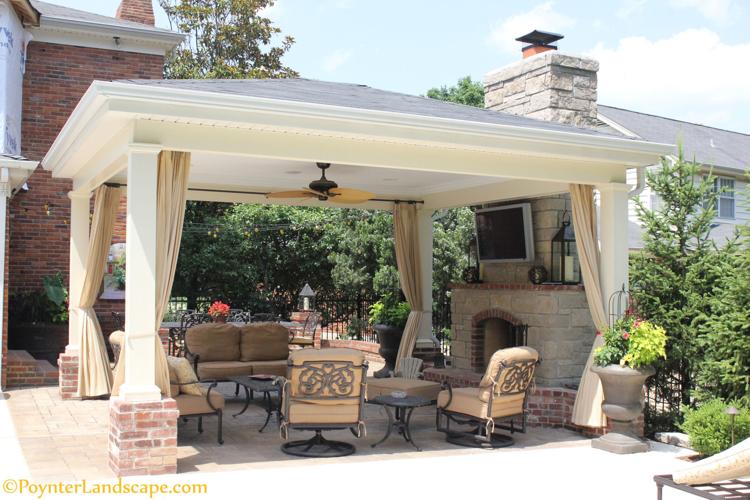 After the on-site visit, clients are interviewed about the components they hope to implement into their space.
"Sometimes there is a longer-term goal – whether it's a pool or a pavilion or tennis court or whatever it might be that isn't in today's plans – but they think is in their future," Poynter says. "They want to see this broad picture of how their whole backyard would look, go together and then determine what the most important pieces are, and how we build those in a phase or two."
The on-site visit also allows Poynter and his team to see what clients dub problem spots in their spaces.
"Sometimes a problem with the property turns out to be the opportunity," he says. "For instance, a property that might have a slope of some significance may make it hard to envision how this place is going to work out to have an outdoor seating area and a fireplace. That turns out to be the solution, in that you know the retaining wall is a seat wall and sort of makes everything cozy. A lot of times people see a problem in their yard, and our job is to figure out how to turn that problem into an asset."
Whether you are in the market for a modest outdoor fireplace or are hoping to add one as part of a large-scale project, these local experts can assist in bringing euphoria to your outdoor utopia.
Deck & Patio Living, 1701 Dielman Road, St. Louis, 314-890-2222, deckandpatioliving.com
Poynter Landscape Architecture, 15815 Jedberg Lane, Ballwin, 636-256-2600, poynterlandscape.com