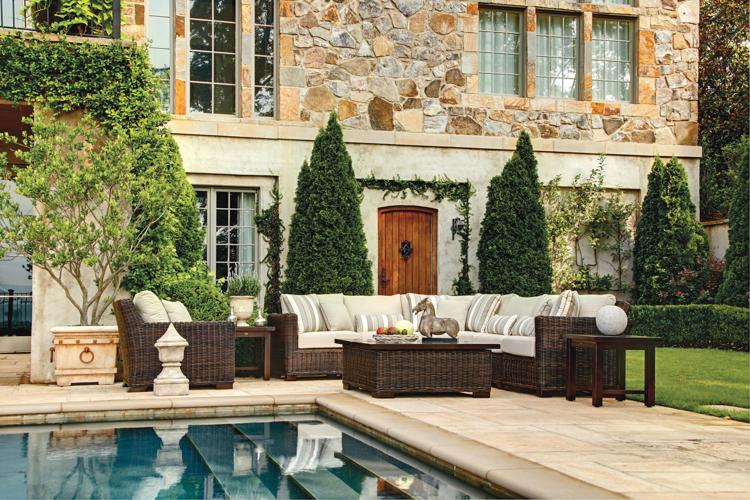 Spending time with your family needn't always doom you to the family room – not when modern outdoor furniture sets, fire pits, sunrooms and pergolas can yield all the comfort of indoor living in your backyard. Moreover, local retailers have an array of outdoor furniture perfect for alleviating the area's dreaded seasonal seizures.
In that light, three local experts – from Amini's, Patriot Sunrooms & Home Solutions, and Summer Classics by Forshaw – recently chatted with LN about this summer's hottest trends in all things outdoorsy.
"The trend has been and continues to be making the outdoor area an extension of your house," says Carey Hoerner, store manager at Summer Classics by Forshaw. Hoerner explains how buying inexpensive, low-quality outdoor furniture and replacing it often used to be the norm. "[Now] there are a lot of upholstered furniture and cushions – people are investing in very durable outdoor furniture that's made to last 10 to 15 years," she says. "That concept is reflected in our store because we sell several lines of furniture, our main line being Summer Classics, and they're made to last generations in the outdoors."
The dernier cri in fabric as well as other cushion materials features much greater durability. Materials like teak and wicker can stand the test of time and weather without incident. Hoerner says that recently people are "using a lot of different elements. They used to just rely on metal or wood furniture. We have a lot of different durable wicker [at Summer Classics by Forshaw] – it won't fall apart like your grandmother's wicker."
Peggy Dollard, the outdoor furniture manager and buyer for Amini's in Chesterfield, claims weathered teak is much more stylish than sets of the past. She notes the store has garnered recent interest for a new collection called RealisTEAK. "It is made of an innovative engineered polymer composed of unique virgin plastics and looks like natural teak," Dollard says. "It has the look and feel of teak but without any of the maintenance. It even feels like real wood."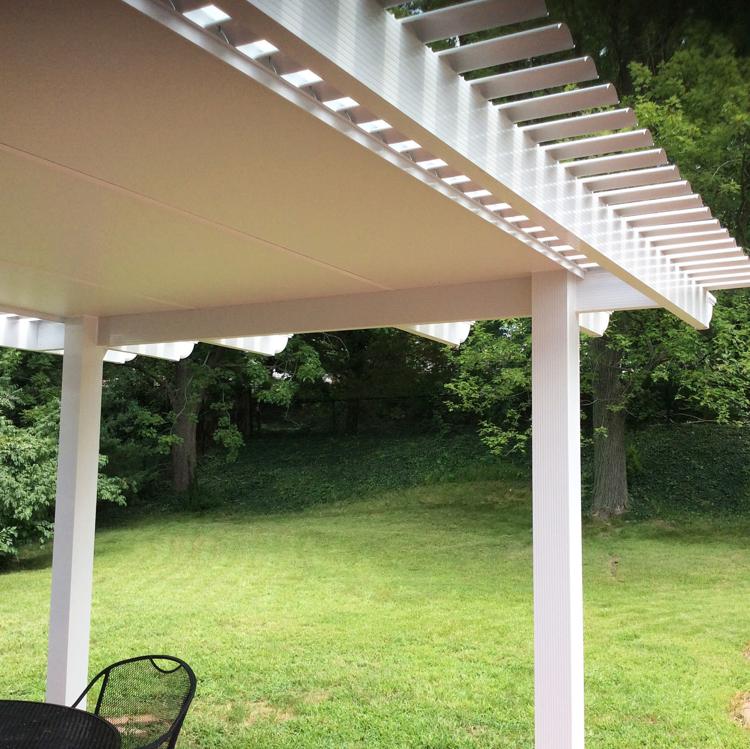 Another recent trend, the reclaimed-wood look, delivers a rustic elegance with a plank top in a variety of colors. "The material is actually porcelain, but it looks like hardwood flooring or reclaimed barnwood," Dollard says. "That's been a popular look for tables and fire pits."
Decorating outdoors for durability needn't mean sacrificing design. "People are choosing their fabrics for outdoors that are neutral and then using outdoor pillows for a pop of color," Hoerner says. "The new outdoor pillows are made with solution-dyed acrylic, such as sunbrella, which really complements your outdoor furniture."
Dollard says gray has been trending at Amini's this season in multiple shades and various textures. "Historically, the St. Louis style is very traditional, but we are seeing a shift to the transitional and almost industrial look," she says. "We're seeing geometrics and patterns mixed in with textures. Frame designs have shifted a little more from traditional to a clean-line, minimalist type of style. Some of the finishes have also changed – we've seen more bronze, javas, lattes, oil-rubbed bronze and grays. The oil-rubbed bronze and java finishes have remained a popular choice, but gray, gunmetal and brushed grain finishes have becoming steadily more popular over the last couple of seasons."
Despite the constant popularity of fire pits of every shape, size and color, other pieces like the motorized outdoor recliner and the "pouf" pillow now are topping many must-buy lists. "We've had several outdoor recliners in the past that are more of a push-back style, but we've introduced some motorized motion in woven pieces," Dollard says. "There are recliners that can be plugged in or run on a battery pack, but it's safe for outdoor [use]. We have a motorized sectional, as well."
Hoerner calls the "pouf" pillow perfect to keep around a backyard pool. Made from solution dyed acryllic fabric, such a pillow boasts both durability and ultraviolet repellency, even when wet. "They're made out of outdoor fabric, but they're a big circular cube that you can sit on and move around," she says.
With the latest innovations in outdoor furniture, Matt Neiberg of Patriot Sunrooms & Home Solutions' Kirkwood location cites a screen room or pergola as the best ways to beat seasonal heat. Although retractable awnings have always proven popular for casting versatile shade, pergolas provide a more pleasing aesthetic.
Another new product from Patriot Sunrooms & Home Solutions is the Life Room; this patio cover with retractable screens can serve as a projection TV, perfect for outdoor movies or baseball games.
With any or all of these new offerings, local retailers are helping to bring the indoor living experience outside.
Amini's, 17377 Chesterfield Airport Road, Chesterfield, 636-537-9200, aminis.com
Patriot Sunrooms & Home Solutions, multiple locations, 800-285-3232, patriotsunrooms.com
Summer Classics by Forshaw, 15977 Manchester Road, Ellisville, 636-527-7655, summerclassics.com/sc-stores/st-louis