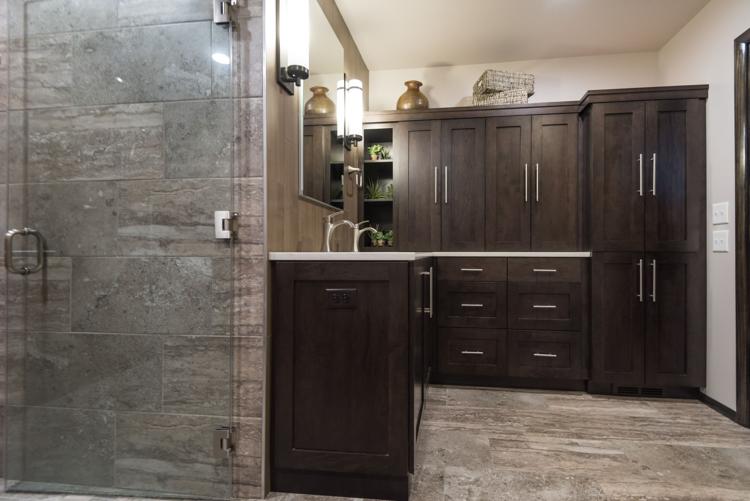 For many homeowners, the adage "home is where the heart is" still seems to ring true: A recent AARP survey showed about 70 percent of people aged 50 and older wish to stay in their homes throughout their lifetime.
St. Louis-based designer remodeling firm Next Project Studio is helping homeowners do just that with universal design, a style of interior design that allows ease of mobility and access for the elderly, the disabled, children and those who could very easily find themselves with limited mobility at any time. "It appeals aesthetically to everyone and functions well for everyone," says Dana King, lead designer at Next Project Studio.
King, who is certified in universal design through the National Association of the Remodeling Industry, sees the style as the wave of the future for home design – for people of all ages and abilities. "Universal design makes a home more accessible, but in an attractive way," she says. "It's not just for aging in place; it's beautiful, functional design."
Next Project Studio is working with an increasing number of clients to implement universal design projects in their bathrooms, in their kitchens and even throughout the entirety of their homes' ground floors.
Using universal design, elements can be remodeled to make the home accessible for every occupant, regardless of age or abilities. "The biggest factor in people having to leave their home is that the bathroom can't be navigated," King says. With a universal design bathroom makeover, space around tubs and toilets is expanded to allow space for those with walkers or wheelchairs, as well as caregivers who are assisting occupants. Additionally, tubs can be converted into spacious, walk-in showers with nonslip tiles, handheld showerheads, benches and grab bars. These updates can prevent hazards such as tripping and slipping, as well as eliminate the need for reaching and bending, which can become difficult as people age, King says.
Another common place in the home where universal design is desired is the kitchen. Universal updates include lower countertops; microwave drawers; elevated dishwashers; table, sink and cooktop pedestals; and contrasting colors. The height updates eliminate the need for reaching and bending, the pedestals provide pull-up access to the appliances and tabletops, and the contrasting colors help those with declining eyesight.
When it comes to implementing universal design, King notes that style doesn't have to be sacrificed for accessibility. Contemporary finishes and fixtures – as upscale as the client desires – can be incorporated into the design, King says.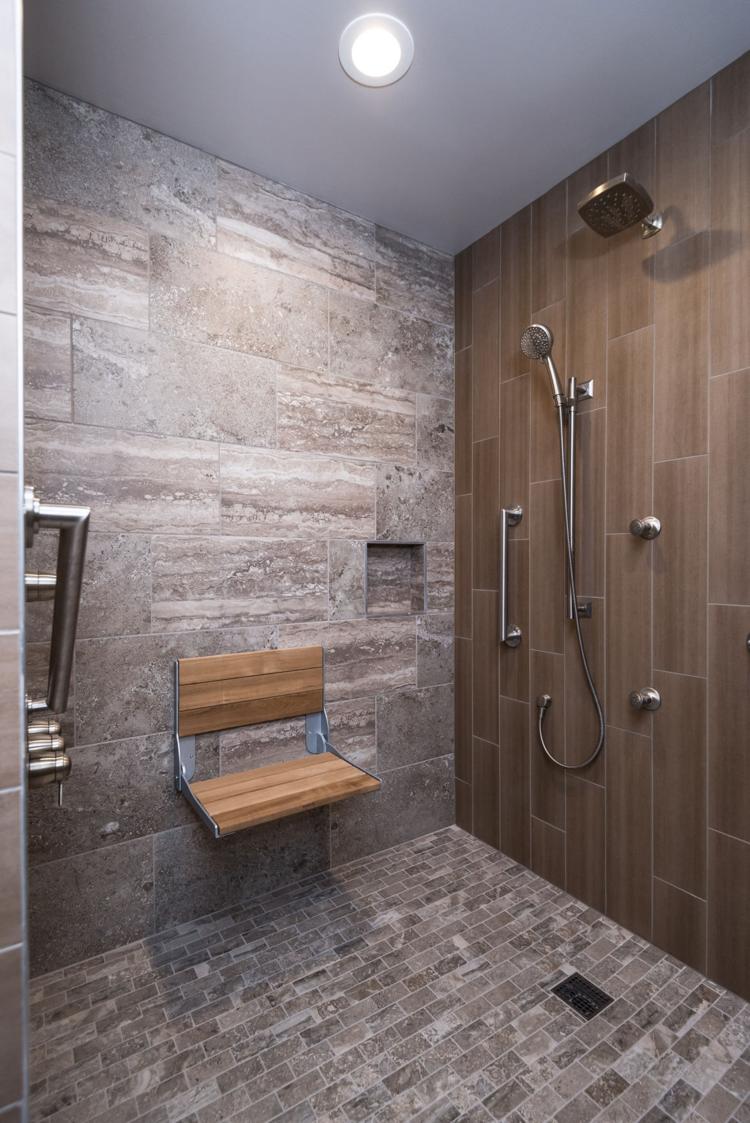 Among its growing number of universal design projects, Next Project Studio recently completed a first-floor remodel in the universal design style for a St. Louis couple. The homeowners determined a universal design makeover would be more affordable than moving into a graduated care facility and would also allow them to remain in the home they loved, King says.
The design firm converted the home's ground-level dining room and sunroom into a master bedroom, bathroom and laundry room – all three of which had previously been a staircase away on the second floor. The home's porch was remodeled to make space for a new dining room off the kitchen. "Two months later, [one of the homeowners] got spinal stenosis, and he made use of that first-floor bedroom, allowing him to come home earlier [from the hospital] and recover at home," King says. "The couple knew later on they would need it, but they ended up using it just two months after we finished the remodel. They were so grateful we helped them envision their space."
A universal design project with Next Project Studio begins with a consultation with a firm designer and a construction expert. Because the firm is both design and build, the process is streamlined, typically taking 10 to 16 weeks for a single room and up to a few months for an entire floor of a home, King says. "People who are close to retirement can contact us, and we can talk about how to use universal design to stay in their homes," she says, adding that the firm's universal design clients often are soon-to-be retirees requesting a remodel or adult children who wish to modify their home to accommodate the needs of their live-in parents.
King says homeowners can benefit from a universal design remodel at any time, and that's why she recommends making the modifications before they are a necessity. "You don't want to be remodeling your home when you're in duress," she says. The design updates can make your home more marketable if you decide to sell or more accommodating to your needs should you decide to stay in the home for a lifetime, she adds.
As the population ages, King hopes to see more designers and builders embracing universal design for remodels, as well as first-time builds. "It's far more sustainable," she says. "And it allows homeowners to feel secure that their home is livable for all stages of their lives."
Next Project Studio, 10405 Baur Blvd., Suite H, Olivette, 314-914-2840, nextprojectstudio.com