+1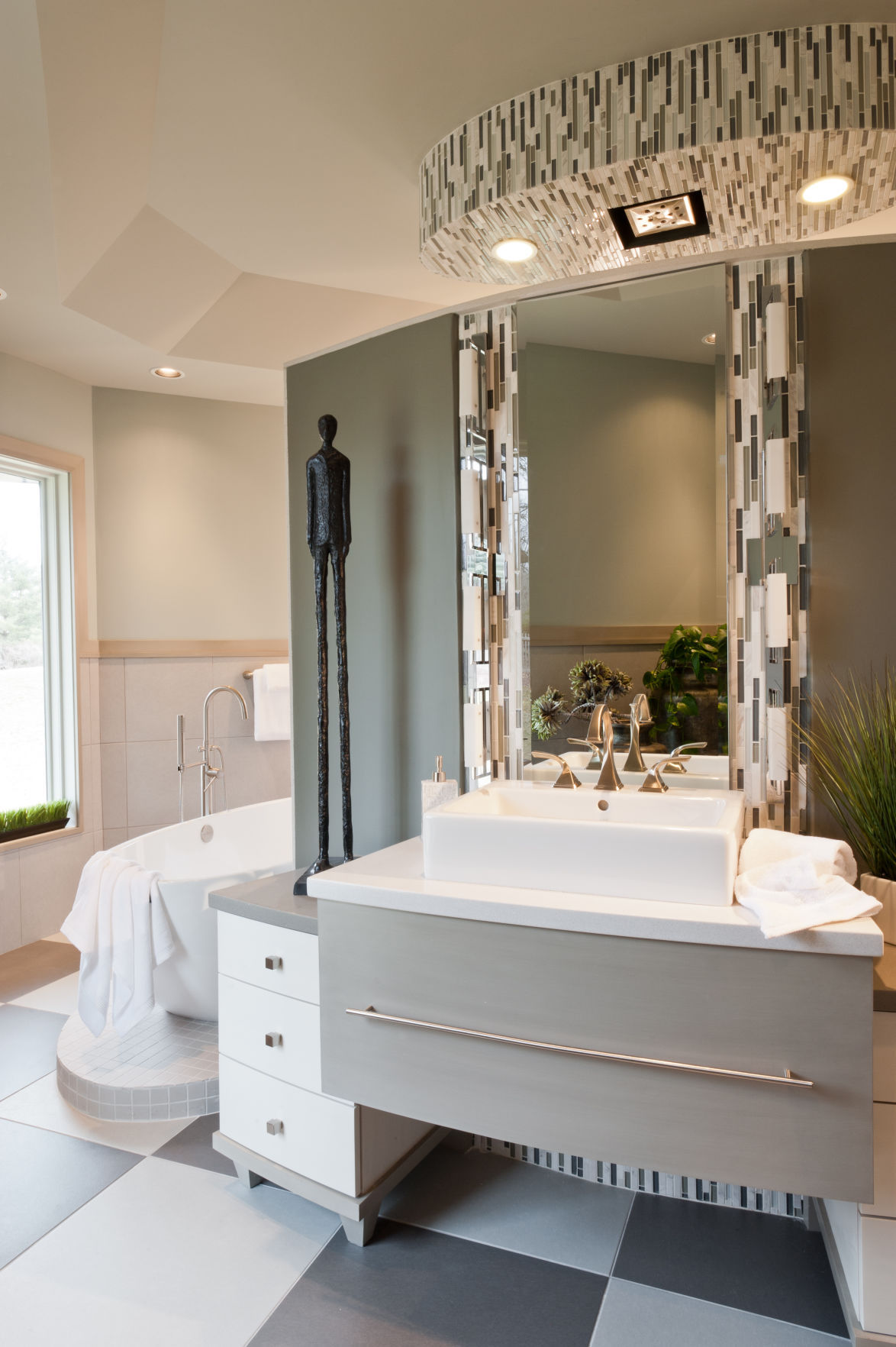 When a family was searching for the perfect place to call home, a modern mansion in Ladue featuring a stunning master bath had them sold.
The dreamy bathroom was brought to life by Kris Keller and her team at The Design Source Ltd., who worked with Jeff Bogard of St. Louis-based luxury home builder R.E.A. Homes, to create the airy spa retreat for a local couple and their young daughter.
As president and founder, Keller knows master bath customizations are at the top of homeowners' wish lists, so she jumped at the chance to transform a blank slate into a unique master bath when her team was asked.
Keller envisioned a serene spa: The luxurious modern design centers on an expansive, open-ended, walk-in Kohler spa-shower, with a white-and-gray vertical backsplash to complement the large-square porcelain floor tiles of the same color palette. In addition to the stunning shower, a 63-inch, freestanding, contemporary bathtub by Lesa is nestled close to a series of narrow windows that let in ample light and views of the beautiful yard, a contemporary take on the traditional picture window.
For plenty of prep room and storage space, large Cambria quartz countertops and cabinetry custom-designed by The Design Source and provided by Beck/Allen Cabinetry are used for the his-and-hers vanity areas, complete with square sinks from Duravit and brushed satin nickel faucets, all well-lit by hidden LED recessed lighting in the tray ceiling. And for the lady of the house, the team added a separate vanity area nestled into a corner, outfitted with a custom-designed floating mirror and ample storage space.
Touches of abstract artwork, from paintings to sculpture, complement the room. To complete the tranquil space, there is also a separate commode room.
Keller combined style, storage and function to create a long-lasting, luxurious bath – a room in the house that she says often deserves more design attention. "The clients enjoy this master-bath retreat with their young daughter, who loves to play in the open shower," she says.
Remodeling Dos and Don'ts
+1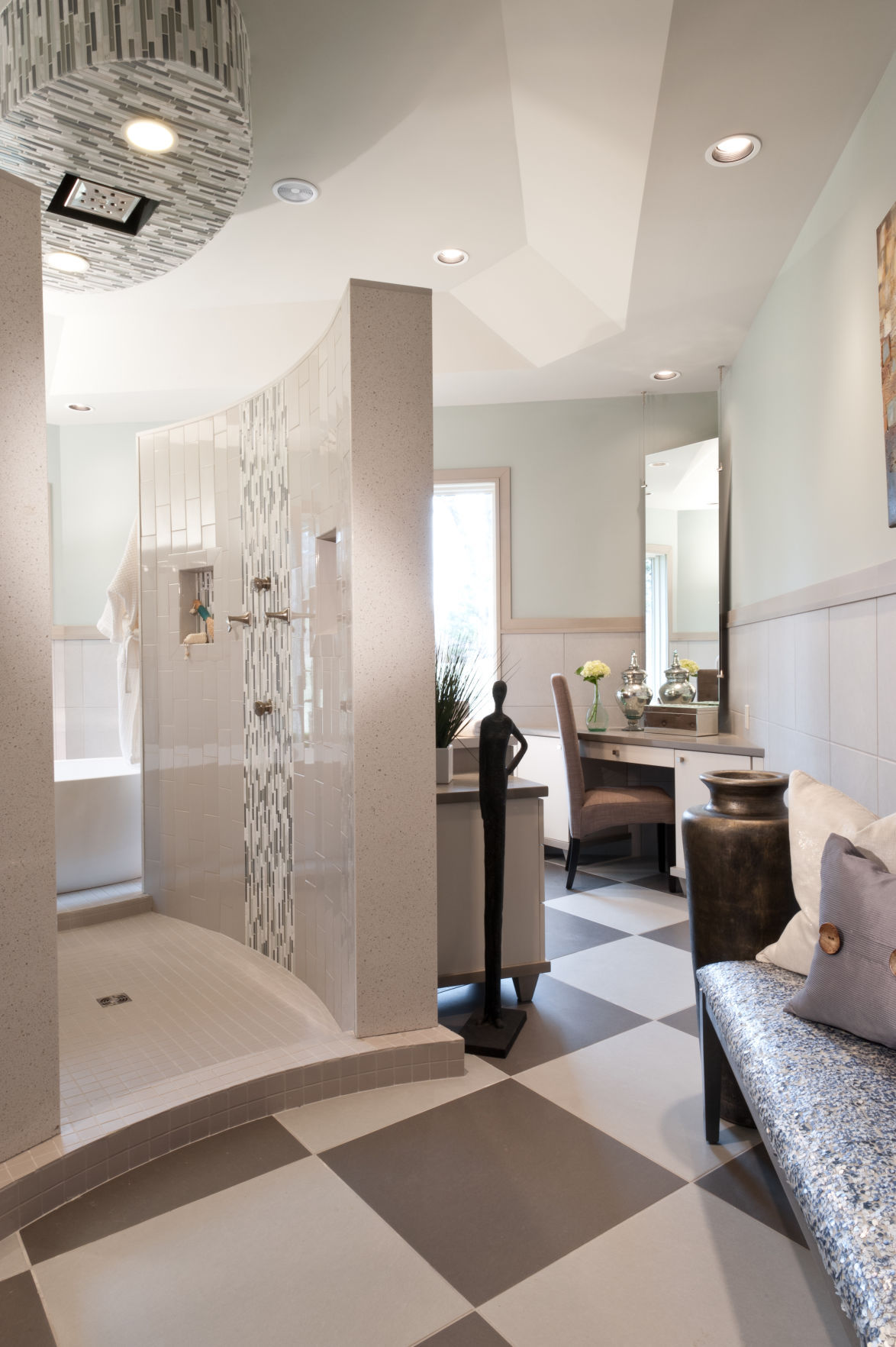 When it comes to bathroom remodeling, Keller says the primary reasons many homeowners wish to transform their baths are to add more personalization, enhance function and expand square footage. But bath renovations take careful planning and execution, she notes, so working with a professional team to implement all aspects of the remodel is vital. "Work with a seasoned professional who you trust and can collaborate with during this sometimes-daunting process – [as] most renovations require on-site creative problem-solving," Keller says. "A reputable design firm will recommend creative solutions for space planning, as well as creating the aesthetic most pleasing to you."
Keller also advises homeowners to stay away from trends. "They come and go quickly; great design and beautiful materials are timeless," she says. "Always think in terms of a space that will feel effortless and current 10 years from now. Careful selection of materials and finishes ensure a gracious and timeless bath."
As for the bath-remodeling budget, homeowners should keep in mind that plumbing fixtures, as well as quality cabinetry, will be the major costs, Keller says. Additionally, she adds that the bathtub can be a big expense when clients desire a free-standing, water-jetted tub.
Keller also cautions homeowners to avoid common pitfalls, such as forgetting to factor in enough countertop and cabinet space. "People need and want great and abundant storage in a bath, so space planning is critical," she notes, adding that homeowners should choose a design plan that includes an appropriate space for the commode and avoid one that requires moving plumbing – a major, costly project.
The Design Source team gets to know clients to ensure it is exceeding all of their wants and needs through a comprehensive design. Keller says it's all about attention to detail, such as adding ample electrical outlets, receptacles for hair dryers and specific areas for vanity and shaving needs. "[Homeowners] spend a lot of time in the bath and want to feel pampered and taken care of as [they] prepare for the day, so be sure you are including the elements of a great bathroom," Keller says. "Think outside the box, and create a stunning space – bathrooms deserve to be amazing!"
The Design Source Ltd. | 636-391-7640 | thedesignsourceltd.com
­­­­­­