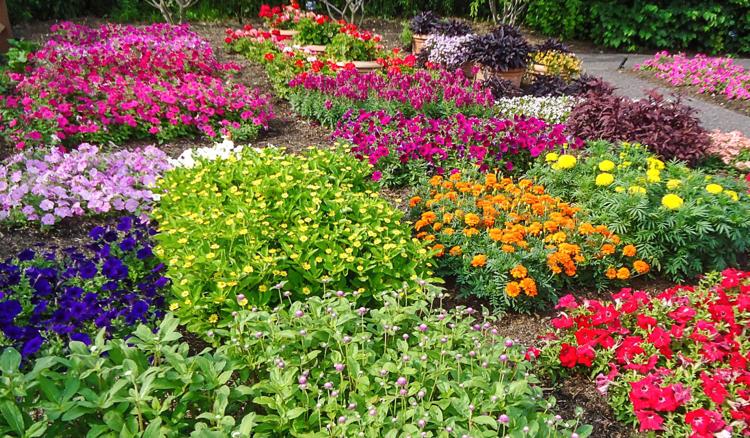 Every spring, garden catalogs brim with bright photographs of new and exciting plants – which themselves pose a problem.
Specifically, although everyone loves to freshen the landscape with charming, trendy additions, two common, interrelated questions from gardeners often arise: What will perform well here, and which varieties should I choose? The companies promoting many items serve a national audience, meaning many of their offerings may not be well suited to our specific growing conditions – hence the necessity of local test beds and trial gardens.
The Missouri Botanical Garden's William T. Kemper Center for Home Gardening has several garden areas designated as trial beds. In them, new varieties are traditionally displayed side by side and are rated during the course of the year to see which perform in our region's growing conditions.
To see records from the garden's trial beds, search "Kemper Center Factsheets" on the web, and explore the flower trial results from various years. You'll see how different selections stack up against one another, allowing you to choose the best performer for your own garden.
Also, look for innovations in the garden's trials. In the past, the Missouri Botanical Garden featured plants grown from seed sent by companies that participate in national trials, but now, Julie Hess is taking a new approach.
Starting this year, trials will not be limited to those sent by vendors, but will include plants groups specially selected for trialing interest here. Combinations of annuals, perennials, dwarf trees, shrubs and vegetables will be grown in more gardenlike displays rather than the formal rows of plants as before.
Hess, along with the garden's staff, started this transition last year with the Southern Living Plants bed at the west end of the trials section. This planting, donated by Southern Living magazine, is one of its northernmost trials. In return for the bed, the garden reports each spring what lived or died during the winter.
Hess has also designed a bed with a variety of autumn crops to see what will overwinter well, in hopes of finding plants that can be used in the fall, left in the ground and inter-planted in the spring in the manner that gardeners to the south of us do.
As a part of the changeover, the garden will test a large number of annual and perennial plants donated by Terra Nova Nurseries. All of these plants are currently on the market and available to the public, as opposed to many of the other trial varieties, which have not yet been released.
Some of the perennials that will be tested include five different varieties of Euchomis, some of the Agastache 'Kudos' series (genetically dwarf) and several colors of Echinacea (looking for improved hardiness). These selections will be observed for three years, allowing several rounds of seasons. Since no two summers or winters in St. Louis are ever alike, multiyear cycles will yield much more accurate information.
A special area will be filled with plants sporting this year's most trendy plant color, butter yellow, and will include Coreopsis 'Buttermilk,' Verbascum 'Gold Nugget' and Leucanthemum 'Goldfinch.' Hess will be trialing nine different varieties of Cosmos to see which holds up best and keeps flowering in what promises to be another hot, humid St. Louis summer. Look for the newest compact patio vegetables, which will be tested in containers and the ground.
We're hoping these additions will make this garden area more interesting and educational for everyone – including us.