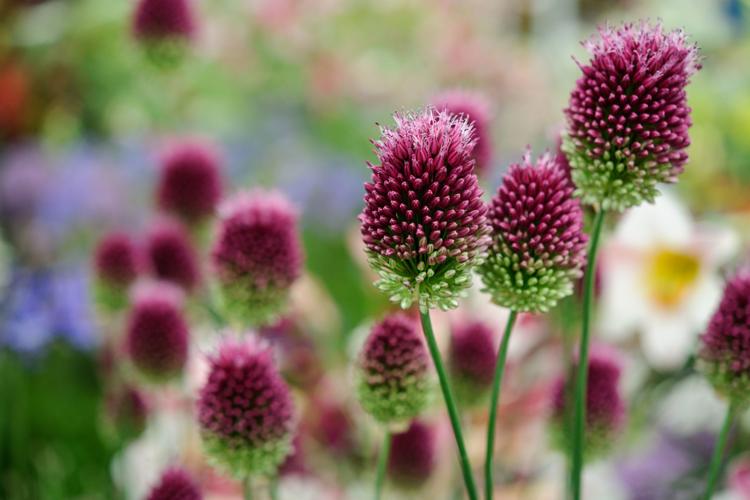 Every year, someone asks me what those giant ball-like flowers are – you know, the purple ones about as big as a softball, perched atop a sturdy stem like a huge lollypop with floppy wide straps of leaves. When in bloom, they create quite a sensation, especially when mass-planted.
These striking flowers are ornamental onions. Yes, onions! If you followed that stem into the soil, you'd soon come upon an aromatic bulb that's sister to the grocery store varieties used for culinary purposes. The large flower forms carry the same strong sulfur compounds that give onions and garlic that distinctive odor and make them totally unattractive to deer, the plague of Ladue, plus voles, mice and chipmunks.
Flowering from May to September, a careful selection of cultivars and species will give a long ladder of bloom. The individual flowers are tiny, but are formed into loose or tight collections called "umbels" that radiate from a single point. The color range in this genus is broad, mostly centered on the purple-lavender-white palette, brightened with cerulean blue, rose, red and sunny yellow. Smaller flowered forms are perfect in the rock garden and love well-drained growing conditions. Statuesque and architectural large umbel types may be interplanted with late tulips, clustered in mixed summer borders or added to evergreen groundcover beds for drama.
My grandmother grew the delicate little corkscrew onion in her rock garden when I was a child. We would collect the flower umbels and break them apart to dress the top of a green salad – pretty and useful. Later, on my first visit to the Chelsea Flower Show, I was flabbergasted by the heights, literally, this wonderful genus can reach in the hands of great plant breeders and stunned by the array of colors. Many new releases have come out during the last 20 years. Here are some we prefer: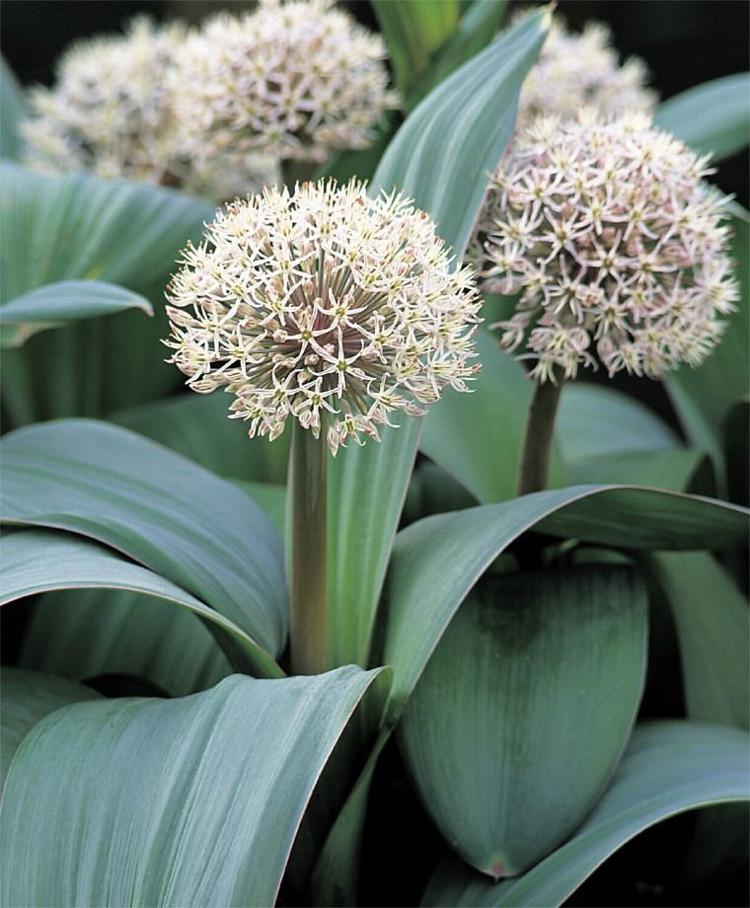 Turkestan onion (A. karataviense) is the first to bloom. The short species has large white globes with a faint blush, but a wonderful 'Red and Pink Giant Mix' is available from Brent and Becky Heath.
White 'Mount Everest' and dark 'Purple Sensation,' 50-inch 'His Excellency,' giant 'Gladiator' and humongous 'Globemaster' are all midseason, architectural big-bang onions.
Mixed rock garden alliums, most under 12 inches, may include A. rosea, A. moly, A. neopolitanum, A. unifolium and A. oreophilum. Look for the best sunny yellow in A. moly 'Jeannine.'
Tumbleweed onion (A. schubertii) looks like a rosy lavender shooting star, with fertile flowers near the center and the sterile blossoms on longer petioles stretching out beyond them.
Allium 'Millenium' received the 2018 Perennial Plant of the Year award from The Perennial Plant Association for long summer bloom, pollinator draw, nice habit and lovely 2-inch lavender flowers.
Stars of Persia (A. christophii) umbels are packed with striking outfacing star-shaped flowers in a lovely shade of amethyst in huge round heads. Not so durable, but worth replanting.
Summer-blooming black onion (A. nigrum), maroon drumstick allium (A. sphaerocephalon) and narrowleaf onion (A. amplectens 'Graceful Beauty') span the season that ends with petite 'Ozawa' lasting well into autumn.
Most alliums should be planted in the fall, so start your shopping now and order early, as many prized and popular cultivars sell out quickly. They ship well as dormant bulbs and are planted much like daffodils. Many of the larger globe forms dry very nicely and are excellent for autumn arrangements or spray-painted for holiday use. Plant them in and among summer foliage plants to help disguise their withering yellow leaves as they go dormant. Always mark your plantings in some way so you don't accidentally dig into them while planting other things. Kick-start the flavor of your garden for next year by planting flowering onions this fall.